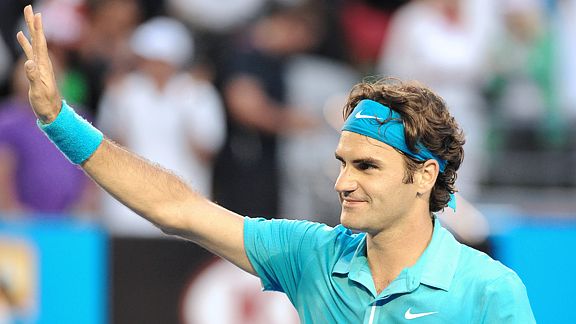 FEDERER EXPRESS
Roger Federer is into his 18th Grand Slam final in the last 19 Grand Slam events. Think about that for a second. He hardly broke a sweat in a straight-sets win over Jo-Wilfried Tsonga. On Sunday, he'll try to win his fourth Aussie title and his 16th major title. He'll face Andy Murray, who's trying to win his first major title. And the first major title for any British man since Fred Perry in 1936. But no pressure, really.
More from The Rundown, including where you'll find the newest rival for the Smurf Turf, why Glima had a short lifespan as an Olympic event, and which NFL quarterback is at peace thanks to the advice of his psychic, after the jump.
BIG BLUE SKY, BRIGHT RED TURF
Former Eastern Washington star (and current Tennessee Titan) Michael Roos has pledged $500,000 toward the school's "Red Turf Project." Officials hope to raise additional private funding in order to have the field installed for the upcoming season.
THE X FACTOR
The Winter X Games are underway in Aspen. 65 of the athletes competing there in the SBD Pipe, SBX, and Skier X will move on to also compete at the Winter Olympic Games in Vancouver next month. And it's not just the athletes moving onward and upward. Or northwestward. Ski Cross will also be there to for the first time as an Olympic event. Hopefully, its debut goes better than the 1912 debut of Glima. Let Forbes introduce you to Glima, a form of Icelandic wrestling in which the wrestlers wear leather straps around their waists and around their thighs that their opponents grab to score takedowns. Somehow Glima only managed to make it as a demonstration sport that one year. And their list only goes downhill from there. Literally (see also: 1992).
"We've worked hard to create, promote and protect our mark. So, sure, we've had cases where we had to step up and protect our trademark, particularly when it's abused or used without our approval or a license. But for the NFL to come down here from New York, and say to a girl at a small shop on Oak Street that she can't use the fleur de lis...the irony of it all is that the NFL doesn't own Who Dat or the fleur de lis - neither one!"
- The NFL is cracking down on Who Dat merchandise, which isn't sitting well with Steve Monistere, who recorded the Who Dat chant back in 1983 and who may just hold the Who Dat trademark.
"I have a psychic and she told me; she said, 'Good things are to happen in Philadelphia and it's going to be really good for you. Just relax. You'll get what you need.'"
- Donovan McNabb says he's confident his future as an Eagle is bright because his psychic is confident his future is bright. He also said it with his best Jamaican psychic impersonation. Seriously.
You don't need a psychic to deliver the goods each morning. You just need The Rundown. Get it here.