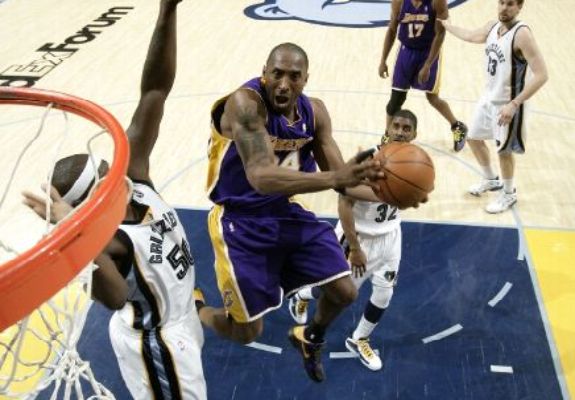 Photo by Joe Murphy/NBAE via Getty Images
Kobe Bryant became the franchise scoring leader for the Los Angeles Lakers Monday, passing Jerry West on a dunk in the 3rd quarter. Lakers F Ron Artest stole the ball from Grizzlies F Rudy Gay and hit a wide-open Jordan Farmar near the Grizzlies basket. Farmar unselfishly passed off to Bryant for the record-setting dunk.
Most Points Scored, Lakers Franchise History:
Kobe Bryant - 25,208
Jerry West - 25,192
Kareem Abdul-Jabbar - 24,176
Elgin Baylor - 23,149
Magic Johnson - 17,707
According to the Elias Sports Bureau there are five other active players who are the franchise leader in total points for their current team: Dirk Nowitzki (20,240 points for Dallas), LeBron James (14,436 for Cleveland), Dwyane Wade (11,194 for Miami), Chris Bosh (9,751 for Toronto) and Gerald Wallace (6,169 for Charlotte).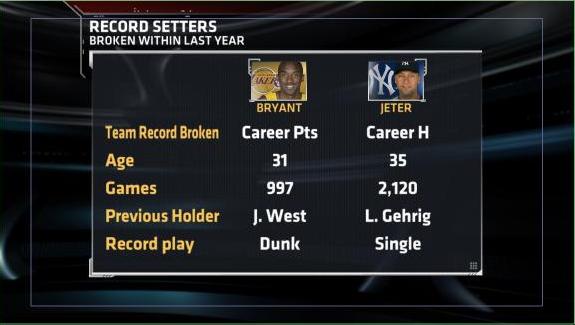 You look at the biggest stars in the biggest cities in the country, and they've each become record-holders of prestigious marks within the last year. Derek Jeter broke Lou Gehrig's all-time Yankees hit record during the baseball season. Bryant's dunk gave him the Lakers all-time scoring mark on Monday.