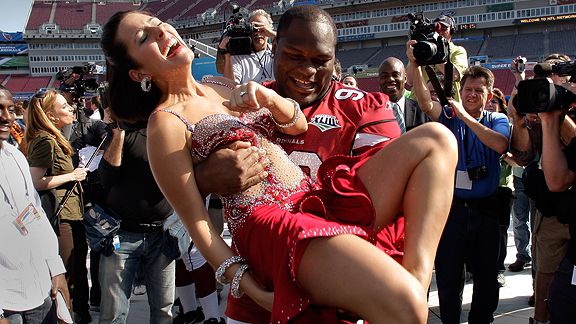 THAT'S RIGHT, WOODCHUCK-CHUCKERS
It's Groundhog Day and Media Day today at the Super Bowl. Good times. Somebody will probably try to marry Drew Brees. Somebody will probably try to dress up like Chewbacca. And those two somebodies will probably be the same somebody. But whoever they are, they'll be inside this year instead of out on the field in the rain. And you should always be careful who you invite inside out of the rain.
More from The Rundown, including another NBA whipper-snapper one-upping an NBA legend (no, not that one), another NFL superstar who would like to get paid, and another example of what happens when you drive angry, after the jump.
GREEN WITH ENVY
While you were busy last night hanging up your groundhog stockings and watching Kobe chase down Jerry West, Kevin Garnett went out and scored 19 in an 11-point win over the Wizards to pass Larry Bird on the all-time scoring list. His 21,792 career points put him alone in 24th-place. Up next in his sights? Gary Payton. (Wait, what?)
BETTER LATE THAN NEVER
Your Oilers get their very first win of 2010 after they went 0-10-2 in the month of January. The win actually snaps a 13-game winless streak which was the second-longest winless streak in team history. And there was much rejoicing. (In the frozen land of Edmonton.)
DON'T DRIVE ANGRY
Sparty's coach is Tom Izzo, who celebrated his 55th birthday on Saturday with a win over Northwestern. That pushed his winning percentage up over .700 - to .701, to be exact. Which is exactly .001 better than Bob Knight. So you could argue that Izzo is now the best coach in Big Ten history. ("What about me?" asks Purdue's Ward Lambert.) But argue fast, because it could all change tonight when No. 5 Michigan State visits No. 16 Wisconsin. Izzo hasn't won there since 2001 - a string of six straight losses. So watch what happens when you drive angry.
"I think I deserve to be the highest paid running back in the league, or even the highest paid offensive player besides the quarterback...But it's not like I am not going out in the media saying, 'Pay me, I want a new deal now.' I am just saying, if they were to pay me, I want that. Hopefully they want that, too."
- Chris Johnson puts the Titans on notice. And at some point in my life, I hope I get to steal the line, "If they were to pay me, I want that." (Going to stick that in my back pocket.)
We won't stick The Rundown in your back pocket. But we will stick it in your inbox. (What you do with it after that is your business.) Let us into your inbox. Click here.