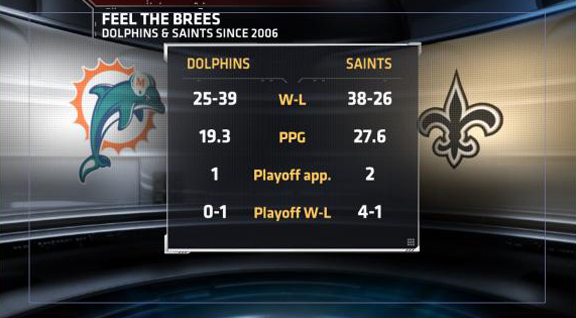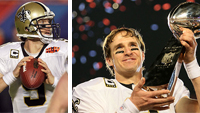 AP Photo
Drew Brees Super Bowl XLIV MVP
TO BE LIKE DREW: If you're like us, the 2010 NFL Draft can't come fast enough. Congrats again to the Saints Super Bowl XLIV victory. What a dream ride, you win the Super Bowl, get named the game's MVP and then you get to go to Disney World where they throw a parade in your honor. It's great to be Drew Brees. Since the Saints signed Brees, they're 12 games over .500 during the regular season, scoring over 27 points/game. The Dolphins meanwhile, the team that considered then passed on Brees as a free agent, 14 games below .500, scoring 19 points/game.
After the jump, more amazing numbers from the NBA and we go inside the Big East Battle between #4 Villanova #5 West Virginia.
More: Super Bowl Glory | Super Bowl Central | NFL Draft Order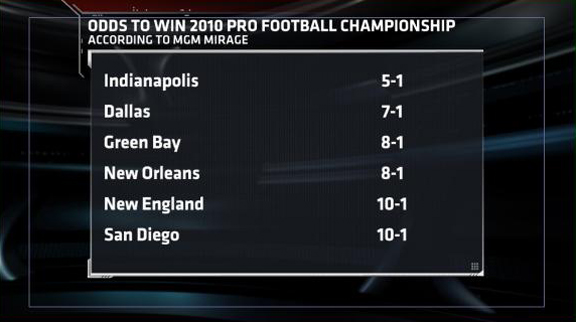 BETTER LUCK NEXT YEAR: Here's a look at the odds to win the 2010 Pro Football Championship according to the MGM Mirage in Las Vegas. Indianapolis opens as the favorites, with 5 to 1 odds, while Dallas has the next best odds at 7 to 1. New Orleans and Green Bay are next with 8 to 1 odds.
-------------------------------
IN THE ASSOCIATION:
-------------------------------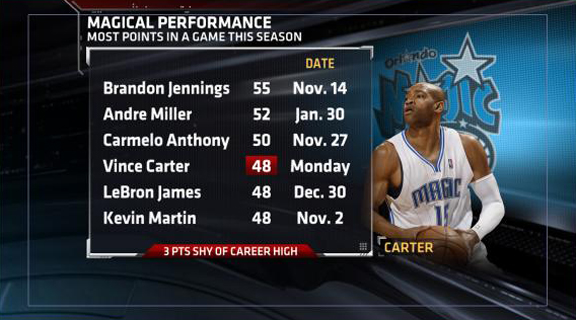 MAGIC MAN: Vince Carter scores his highest point total with the Magic, topping his previous high of 34 points. Carter and Dwight Howard are the only two Magic players with a 40-point game over the last six seasons, the same time period since Tracy McGrady left the team. Carter has scored 40+ now twice over the last three seasons, the other coming in March 2009 while he was with the Nets. The Hornets score 70 points in the first half, their highest-scoring half since March 2003, but are held to 47 in the 2nd half. Darren Collison scores a career-high 27 points, but the Hornets are 2-4 since Chris Paul's injury.
VINTAGE VINCE: Vince Carter turned back the clock on Monday night with a vintage 48-point performance. It is tied for the 4th-highest scoring performance of the season behind Brandon Jennings, Andre Miller and Carmelo Anthony. Lets look back at some Vintage Vince Carter moments:
In February of 2000 the Raptors made their U.S. Network television debut and Carter rose to occasion as he dropped 51 on the Suns as the Raptors won by 1.

Carter's 2nd 51-point outburst came as a member of the Nets in December 2005 as he shot 13 of 25 from the floor against the Heat. He also drained 23 of 24 free throw as the Nets won by 7.

And last night as a member of the Magic, Carter scored 34 of his 48 points in the 2nd half to help the Magic win. He becomes just the 5th player in NBA history to score at least that many points with 3 different teams.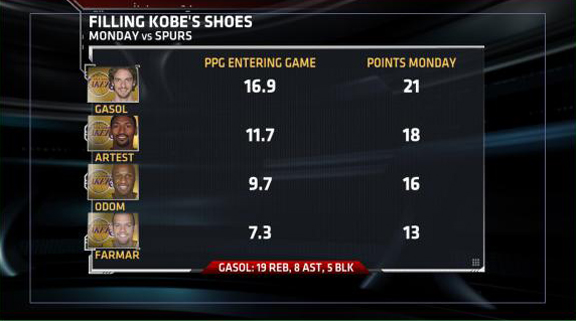 NO KOBE, NO PROBLEM: Pau Gasol puts up 21 Pts, 19 Reb, 8 Ast and 5 Blk (becoming the first player to reach each of those totals in a single game since Shaquille O'Neal did it for the Lakers in 2000) to lead the Lakers to their second straight win without Kobe Bryant (ankle). Gasol was also a game-high +14 in the plus/minus. The Lakers improve to 30-3 this season when scoring 100+ points. Manu Ginobili (21 Pts, 7-11 FG), Tony Parker (20 Pts, 8 Ast) each scored 20+ points to lead the Spurs, while Tim Duncan had 16 Pts, 15 Reb and 4 Blk for his 6th 15-15 game of the season. The Spurs fall to 2-2 on their current 8-game road trip. Andrew Bynum also did not play for the Lakers in this one (bruised hip).
More: LA SportsCenter | Ankle could keep Kobe out of All Star game
-------------------------------
ON THE COLLEGE HARDWOOD:
-------------------------------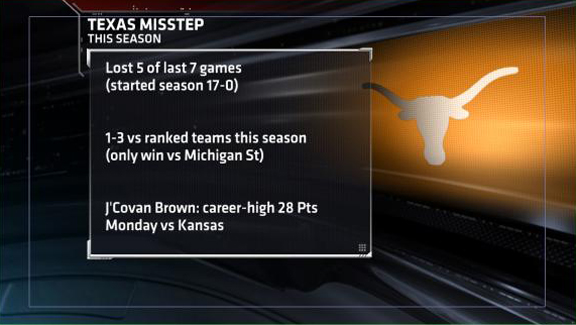 Kansas wins its ninth straight game and snaps a three-game road losing streak vs Texas. Marcus Morris scores a team-high 18 points and adds 8 rebounds, his fifth straight game with at least 8 boards. The Jayhawks are 4-1 in their last five road games vs ranked opponents. Texas has now lost five of its last seven games after starting the season 17-0. The Longhorns, 15-0 when they reached No. 1 in the poll for the first time in school history, are just 4-5 since reaching the top of the poll. J'Covan Brown scores a career-high 28 points in a losing effort, 7 more than his previous career best. Damion James adds 24 points and 10 rebounds for his third 20-10 game in his last five games. The Longhorns have struggled against ranked teams, going 1-3 with losses to Kansas State, UConn, and now Kansas.
More: What in the world is wrong with Texas? | Andy Katz: KU's elite eight get it done again | ESPNDallas.com Blog | Big 12 Standings
(4) Villanova 82, (5) West Virginia 75
BIG EAST BATTLE: In the first match-up between two Top-5 teams this season, Villanova is able to bounce back from its loss at Georgetown to take the 7-point win over West Virginia. The Wildcats are 10-0 over the last two seasons following a loss. 9 players scored for Villanova including a game-high 21 points from Scottie Reynolds (19 in 2nd half). With the win, the Wildcats earn their first win at West Virginia since 1999 (snapping a 4-game losing streak there). West Virginia has lost 4 of its last 7 games vs ranked opponents (0-3 vs Top-5 opponents this season). Let's go Next Level: West Virginia took advantage of its size early locking 6-foot-9 Devin Ebanks on Scottie Reynolds. Ebanks shut down Reynolds, holding him to only 2 points in the 1st half. In the 2nd half Reynolds took over scoring 19 points - 17 of those came while Ebanks was not defending.
More: Top 25 | Big East Standings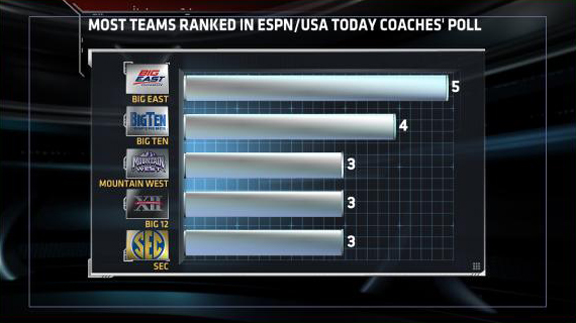 BIG IS BETTER: The Big East with 5 teams in the top-25 of the ESPN/USA Today Coaches Poll, including 4 in the top 8 (Syracuse (2), Villanova (4), West Virginia (5), Georgetown (7), Pittsburgh(25). The Big Ten has 4 teams (Purdue (6), Michigan State (10) Wisconsin (11), Ohio State (13), followed by the Mountain West, Big 12 and the SEC, each with 3 teams. By the way, 12 of the top 25 teams play in a conference with the word BIG in the title.
-------------------------------
WORLD OF GOLF:
-------------------------------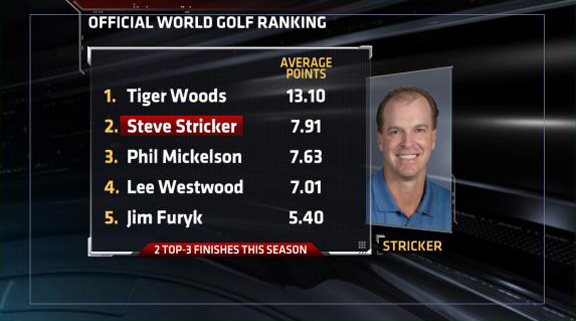 With the win, Steve Stricker moves into 2nd place in the official world golf ranking, just ahead of Phil Mickelson and Lee Westwood. Tiger Woods still has a big lead overall. Stricker has 2 top 3 finishes in 3 events played this season. Through the complicated formula, If Tiger Woods doesn't return by the British Open, he'll likely fall from the number one spot.
More: McGowan likely to have final spot | PGA Tour Schedule
Note: The Elias Sports Bureau and ESPN Stats and Information Group contributed to this report.