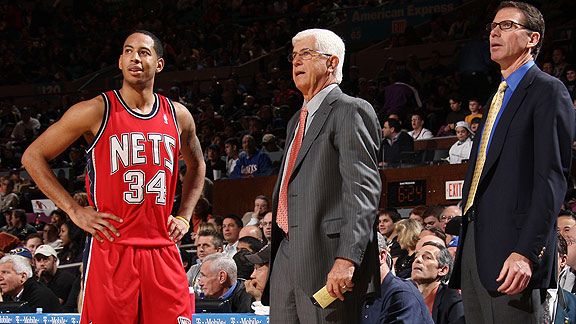 Nathaniel S. Butler/NBAE/Getty Images
It's a bird! It's a plane! It's Rex Ryan in a blazer and tie with a clipboard!
What does an online shoe and clothing shop based in Nevada have to do with the New Jersey Nets? We're not exactly sure. But for whatever reason, Zappos.com is offering shoe shoppers and Nets fans everywhere the chance to coach the Nets for a day.
Actually, it's more like Zappos is offering fans the chance to "coach" the Nets for a day, as responsibilities don't include much more than getting free Nets stuff, having lunch with team brass (which has the potential to be extremely awkward, right?!), assisting in pregame drills (H2O distribution, perhaps?), touring the locker room and attending the postgame press conference.
Still, any attention is good for a team that was only able to draw 1,000 fans to a loss against the Bucks last night (OK, about 12,000 people who paid for tickets didn't show up because of a snowstorm in the Northeast, but that's beside the point). And, the promo might have attracted at least one high profile contestant. You think it's a coincidence that Zappos starts this promotion and two days later rumors that Louisville coach Rick Pitino contacted the Nets about being their head coach start swirling? You do think that? Well you're no fun.
So Pitino says the rumors aren't true. But there's no reason he can't try his luck and coach the Nets just for a day, to make sure he really really doesn't want to make a return to the NBA. After all, how can you be sure about something until you've done it three times? At the very least, maybe he can brush off the old, "so and so is not walking through that door," speech for the postgame press conference he'd be entitled to attend. People love that one.
Pitino's not the only guy who should use the Zappos promotion as a one-day working trial. Unlike Ravishing Rick, Jeff Van Gundy actually is someone the Nets are interested in talking to about their soon-to-be coaching vacancy. So he should probably enter. But some advice to Van Gundy if he does indeed win and does indeed decide to treat his day in East Rutherford as a job interview – don't rant about your baldness. Complaining is not looked upon as a leadership quality.
But we can see how Pitino and Van Gundy might be a little too busy to hang out with the Nets for a day, with Pitino coaching at Louisville and Van Gundy traveling around in an RV and watching Hoosiers and all. But you know who has tons of time? Rex Ryan. He's hanging out at MMA events, attending hockey games, changing his shirt in public … why not help out his hometown franchise? Besides, Rex's Jets had three times (three) as many wins in January as the Nets (one). So that must qualify him for not only the contest, but like a three-year deal with the Nets or something, right?
Or are we going about this all wrong? Should we be pulling for Dwyane Wade to win this contest? Because he'd do well at his one-day stint as Nets coach, being one of the best players in the NBA player and all (player-coach?), and he also loves shoes. And isn't that all what this is really about? Shoes? Maybe D-Wade could become Zappos' new spokesman after his time on the sidelines. Of course he'd probably have to bring Charles Barkley with him. But you know what? We're OK with that.