February 12, 2010 7:30 AM ET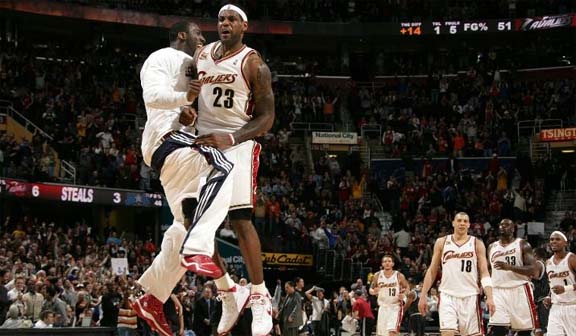 LUCKY 13
With the Cavs holding just a four-point lead over the Magic and ten minutes to go, the King decided to hold court. LeBron scored 11 and assisted on 9 of the next 20 points that made up the 20-10 run that
sealed their 13th straight win
. That extended the longest winning streak in the league this season. That also tied Cleveland's longest such streak since LeBron became a Cav (also known as: "in franchise history"). The only other two teams to take a streak that long into the All-Star break (see also: the 16-gamer by the 1990-91 Lakers and the 13-gamer by the 1985-86 Celtics) both reached the Finals. The Celtics won. The Lakers met Michael Jordan.
More from The Rundown, including the worst brawl ever, and the most ridiculous man ever, after the jump.
KEEPING UP WITH THE JONESES
League sources tell Adam Schefter that former Titan and former Cowboy (and former personal conduct policy violator) Adam
"Pacman" Jones worked out for the Bengals
yesterday. It's thought to be the cornerback's first workout since the Cowboys released him last year. And why should they stop there? Schefter also reports that Cincinnati has expressed interest in former Jaguars wide receiver Matt Jones, who's been battling to return to the NFL after encountering legal issues of his own.
MOUNTAIN-YEAR
The Backyard Brawl hits the hardwood for the second time in 10 days. Of course, No. 4 West Virginia defended its home court last Wednesday (sometimes with objects thrown by the fans). So
the scene shifts to No. 23 Pittsburgh
. And the Panthers need the momentum to shift with it. Because the Mountaineers won the football game, too. And since the basketball team joined the Big East in 1995, West Virginia has never swept the regular-season meetings in football and men's basketball. And if that's not enough, the WVU women have already swept their season series. All of which could make this brawl the second-worst brawl ever. Because
this is the worst brawl ever
.
ROUND ABOUT THE CAULDRON GO
The Winter Olympics start today. But not with the Opening Ceremony in Vancouver (9:00 pm ET), but with the ski jumping individual qualification at Whistler (1:00 pm ET). So who will light the Olympic flame? The early favorite was Wayne Gretzky, but last night, the VANOC chief stated plainly that the Ontario native and 2002 gold medal-winning coach and all-around
Great One will not light the cauldron
. Which means the late favorite becomes Betty Fox, the mother of the late Terry Fox, who has a statue in his honor outside the Ceremony's venue. But that doesn't change the fact that Steve Nash should light the flame. Not just because he's Canadian, but because
he's the most ridiculous man ever
.
Nothing ridiculous about The Rundown, unless you think things like this are ridiculous. In that case, it's nothing but ridiculous. See why when you sign up for it here.
Tags: Michael Jordan, Los Angeles Lakers, Lebron James, Cleveland Cavaliers, Big East, Dallas Cowboys, Orlando Magic, Cincinnati Bengals, Adam Schefter, Jacksonville Jaguars, Boston Celtics, Steve Nash, West Virginia Mountaineers, Wayne Gretzky, Vancouver Olympics, Adam Jones, Pacman Jones, Matt Jones, Backyard Brawl, Pitt Panthers, University of Pittsburgh, William Shakespeare, Opening Ceremony, Betty Fox, Terry Fox