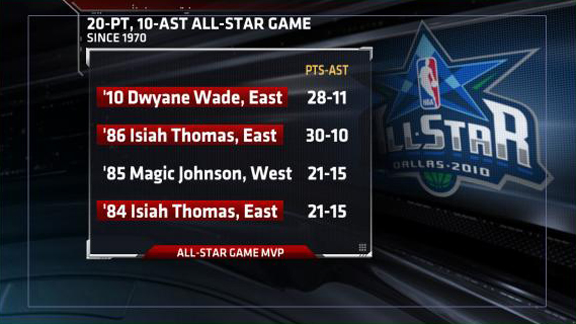 NBA ALL-STAR GAME: EAST 141, WEST 139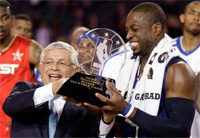 AP PHOTO
The Commish Hands D-Wade his MVP Trophy
In front of a crowd of 108,713 (the largest crowd to ever attend a basketball game), the East wins for the 4th time in the last 6 All-Star Games and now leads the all-time series, 36-23. Chris Bosh scored 23 points and had a team-high 10 rebounds off the bench for the East. The Dallas native also hit the game-winning free throws with 5 seconds remaining. Game MVP Dwyane Wade led the East with 28 points and 11 assists, both All-Star career highs. He's the 1st player to have 20+ points and 10+ assists in an All-Star Game since Isiah Thomas in 1986. The 2-point margin of victory was the closest All-Star Game since 2006 when the East defeated the West, 122-120. LeBron James added 25 points for the East and is averaging an NBA-record 23.7 PPG in his 6 All-Star Game appearances. Carmelo Anthony led the West with 27 points and 10 rebounds, both All-Star game career highs. In 3 career All-Star Games, Anthony is averaging 21.7 PPG and 8.7 RPG. Hometown star Dirk Nowitzki added 22 points for the West, his 1st career 20-Pt All-Star Game. The East led by as many as 16 points and outscored the West 56-24 on fast-break points.
MORE: Game Recap | Box Score | SC Highlight Of The Night | 2010 NBA All-Star Score Cards EAST | 2010 NBA All-Star Score Cards WEST | Rookies | Sophomores | Skills Challange | Slam Dunk | 3-PT Shootout
After the jump, find out who owns the medal count at the 2010 Vancouver Olympics, the last 4 teams in/out of the NCAA tournament, and inside Jamie McMurray's thrilling 2010 Daytona victory.
----------------------------------------------
----------------------------------------------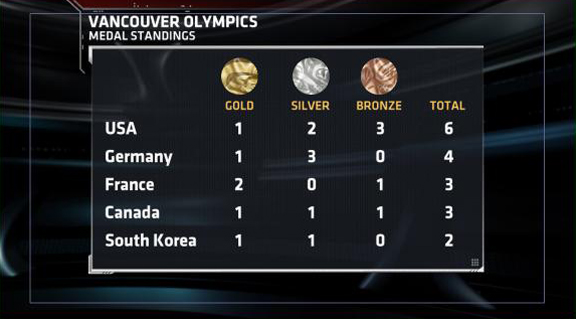 MEDAL COUNT: The United States has six medals so far, the most of any country through 3 days of competition. The six medals equals the amount the United States had in the entire 1988 Olympics, which were the last time they were held in Canada (Calgary, Alberta).
MORE: Vancouver 2010 | Complete Medal Tracker | Feb. 15 Schedule
----------------------------------------------
----------------------------------------------
TOUGH WEEK FOR TOP 10: It was a bumpy week for top 10 Big East teams this week as number-3 Syracuse loses by 6 at home to unranked Louisville on Sunday. 4th-ranked West Virginia lost on Monday at home to 5th-ranked Villanova by seven points and then losing in triple overtime Friday at Pitt. 8th-ranked Georgetown lost by three points on Sunday at Rutgers and will face Syracuse at home in its next game Thursday at 7 Eastern on ESPN2. With the tournament fast approaching, lets take a look at two Big East teams who are sitting on the bubble: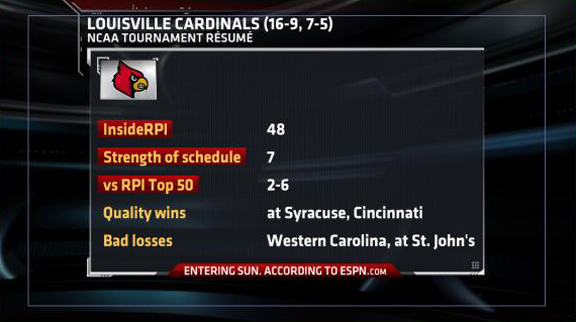 Louisville 66, (3) Syracuse 60
KEEPING THE DREAM ALIVE: In front of the largest on-campus crowd in Division I this season (31,053), Louisville is able to upset Syracuse to snap a 3-game road losing streak vs ranked opponents. The Cardinals have won 5 straight vs Syracuse and are 5-1 vs the Orange since joining the Big East. 4 players scored in double-figures for Louisville including a season-high 12 points from freshman Mike Marra. The loss snaps an 11-game win streak for Syracuse. Both of Syracuse's losses this season have come at home against unranked conference opponents. This is just the 2nd conference loss for Syracuse in its last 17 games. The Irish face an uphill battle if they are going to make the field of 65.
MORE: Syracuse.com | Blog: Louisville Stuns Syracuse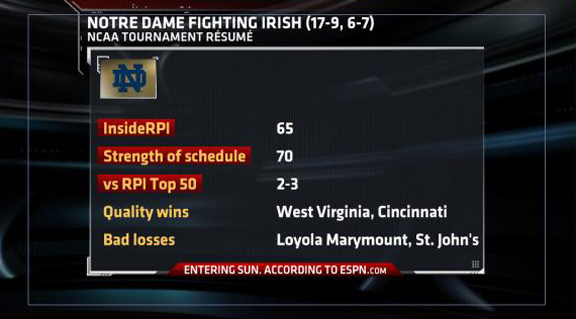 IRISH BUBBLE BURSTING: St. John's wins two straight for the first time since January 13-17. Dwight Hardy leads the Red Storm with 16 points, he had 10 points in the previous three games combined. The win is St. John's 1,700th in school history. It's the Red Storm's first win at Notre Dame since Dec. 30, 1997. Tim Abromaitis led all scorers with 24 points for the Irish, who have lost 4 of their last 6. Let's look at Joe Lunardi's last 4 in/out of the NCAA tournament.
MORE: Chicago Tribune: Without Harangody, Notre Dame loses 69-68 | ESPN Big East Blog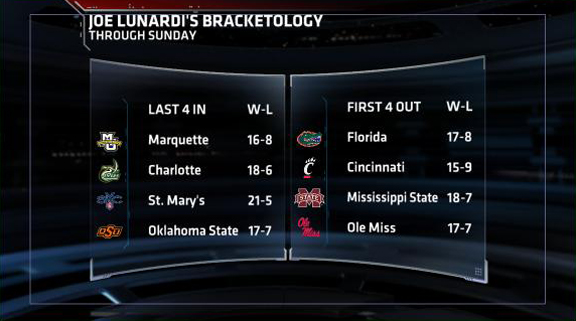 BRACKETOLOGY: Through Sunday, Joe Lunardi has Charlotte and Saint Mary's, two schools not from the "power six" conferences, as among the last four in the tournament. Among the teams Lunardi has among the first four OUT are three teams out of the SEC -- Florida, Mississippi State and Ole Miss and Cincinnati out of the Big East.
MORE: Joe Lunardi Bracketology | Weekly-Watch | Big East Standings
----------------------------------------------
----------------------------------------------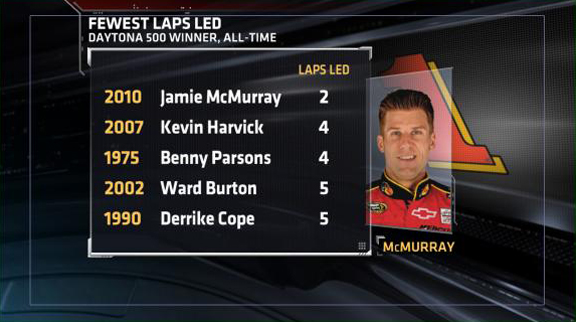 PERFECT TIMING: Jamie McMurray wins a thrilling 2010 Daytona 500 for his fourth career NASCAR Sprint Cup victory. In the second attempt at a green-white-checker finish (NASCAR's version of overtime), McMurray held off several cars including a hard-charging Dale Earnhardt Jr. McMurray led only two laps, the final two, in the race. That is the fewest amount by a Daytona 500 winner in the race's history. McMurray is the 9th straight different winner of the Daytona 500, tying the longest such streak in race history (1986-1994).
MORE: Pothole Didn't Spoil NASCAR's Party | 2 Red Flags, Long Delay Mar Daytona 500 | Earnhardt Roars Back With Vengeance
NOTE: The Elias Sports Bureau and ESPN Stats and Information Group contributed to this report.