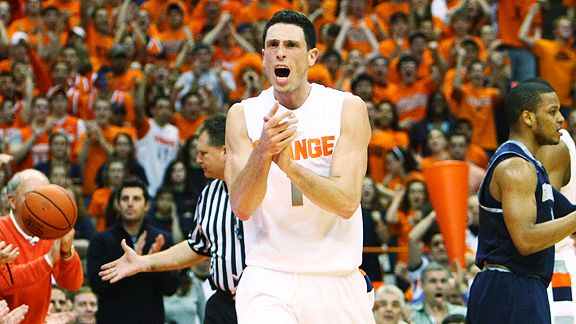 Jerome Davis/Icon SMI
(5) Syracuse (24-2, 11-2 Big East) vs (10) Georgetown (18-6, 8-5 Big East)
7:00 PM ET, February 18, 2010 -- Verizon Center, Washington, DC -- ESPN2
Syracuse and Georgetown will each look to bounce back from surprising losses on Sunday. Syracuse lost at home to Louisville and Georgetown lost to Rutgers on the road. The Orange have won 5 straight conference road games and are a perfect 5-0 vs ranked opponents this season. The Hoyas have won 7 of 9 vs ranked opponents. Syracuse has won 10 of the last 13 meetings. Georgetown is 4-1 all-time against top-five ranked Syracuse teams, with the lone loss coming earlier this season on January 25th at the Carrier Dome. The home team has won the last 8 regular season meetings between the schools. The first bye in the Big East Championship can be clinched tonight. Syracuse would clinch a first-round bye in the tournament if the Orange defeats Georgetown.
Game Preview: (5) Syracuse vs (10) Georgetown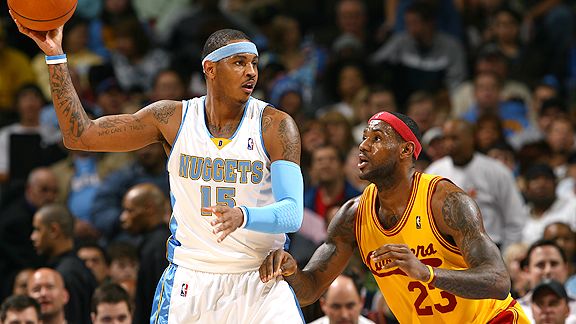 Doug Pensinger/Getty Images
Denver Nuggets (35-18) vs Cleveland Cavaliers (43-11)
8:00 PM ET, February 18, 2010 -- Quicken Loans Arena, Cleveland, OH
LeBron James and Carmelo Anthony will be playing against each other in an NBA game for the 12th time tonight. They each scored at least 25 points in the same game only once: Feb. 10, 2008. The Cavaliers go for a franchise-record 14th straight win. Their 13 consecutive wins are already the most in the NBA this season. LeBron James has registered 10+ assists in 6 of his last 8 games and has averaged 10.5 APG over the last 11 games with PG Mo Williams out injured. James had at least 30 points and 10 assists in each of his last two games before the All-Star break. Only two active players have posted three consecutive 30/10 (points/assists) games: James in November 2007 and Dwyane Wade in November 2006. The Nuggets will be playing for the first time since their head coach George Karl announced Tuesday that he is again battling cancer.
Game Preview: Nuggets vs Cavaliers
Greg M. Cooper/US Presswire
Boston Celtics (33-18) vs Los Angeles Lakers (42-13)
10:30 PM ET, February 18, 2010 -- STAPLES Center, Los Angeles, CA
Each of the last two Lakers-Celtics games was decided by a one-point margin, with Los Angeles winning both games: 110-109 on Feb. 5, 2009 and 90-89 on Jan. 31, 2010. It's only the second time that those teams played consecutive games against each other decided by the minimum margin. It also happened on the first two days of February in 1956, with Minneapolis (107-106) and Boston (102-101) splitting the pair of games. In the history of the rivalry, 16 of their 271 regular-season games have had a final margin of one point. Lakers all-star Kobe Bryant is listed as unlikely for tonight's contest.
Game Preview: Celtics vs Lakers
..............................................................................................................................................
Note: The Elias Sports Bureau and ESPN Stats and Information group contributed to this report.