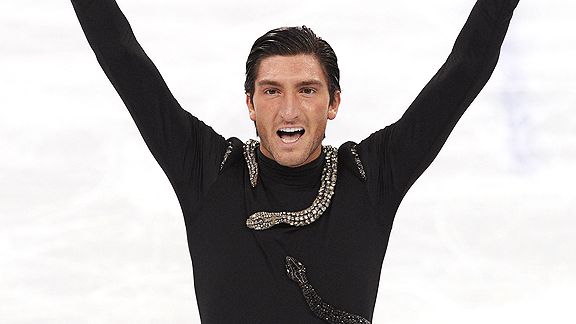 Jasper Juinen/Getty Images
The Winter Olympics continue to provide us some great stories, the NBA trading deadline passed on Thursday and the world is getting ready to hear what Tiger has to say Friday morning.
American Evan Lysacek Wins Gold In Men's Figure Skating
Evan Lysacek won the men's Olympic gold medal Thursday, edging out favorite Evgeni Plushenko.
Knicks Trade for McGrady And Set Up For Free Agents
Tracy McGrady is heading to the New York Knicks, who now have more than $9 million of additional salary-cap space to use in free agency this summer.
The Big Question: What Will Tiger Say Friday?
Lots of talk Thursday regarding what Tiger will say tomorrow (11AM ET - ESPN). Woods makes his first public appearance since crashing his car into a tree outside his Florida home November 27. Without saying a word, he's already being criticized by some for the scheduling of his media event.
Update: Woods is to return to therapy after he speaks publicly, according to a letter from PGA Tour commissioner Tim Finchem that was obtained by The Associated Press.
Vonn Crashes Out of Super Combined
Lindsey Vonn lost her bid for a second Olympic gold medal Thursday when she hooked her ski on a gate and fell in the slalom leg of the super-combined.
U.S. Men's Hockey Team Routs Norway 6-1 In Last Match Before Canada
It wasn't as easy as the score indicated ... The Americans broke it open against Norway when defenseman Brian Rafalski scored twice in the final three minutes.
Daytona International Speedway has come up with a fix for the pothole that delayed last Sunday's Daytona 500 for more than 2 1/2 hours.
Bradford To Attend Combine But Skip Drills
Oklahoma QB Sam Bradford will not work out at next week's NFL Scouting Combine in Indianapolis while he recovers from shoulder surgery that ended his 2009 season.
Accuser In Duke Rape Case Now Faces Arson, Attempted Murder Charges
She was the woman who accused members of the Duke lacrosse team of raping her ... charges which were ultimately dismissed. She now faces serious charges of her own.