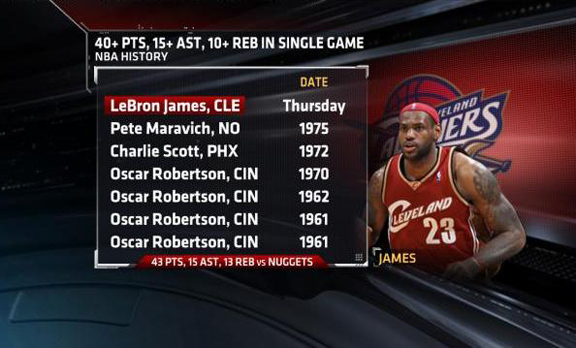 CARMELO, LEBRON STAGE MEMORABLE OT DUEL: The Cleveland Cavaliers entered the game with the longest win streak in the NBA and needed one win to set a franchise record for most consecutive wins at 14. They wouldn't get it as the Nuggets prevailed in overtime. It was the Cavs 1st loss since Jan. 14th and 1st home loss since Jan. 3rd. It was the Cavaliers 4th home loss this season, they had only 2 last season. LeBron James finished with 43 points, 13 rebounds and 15 assists for his 27th career triple-double, 3rd this season. The Nuggets improve to 13-4 in the last 17 games. Carmelo Anthony hit the game-winning shot with 1.9 seconds left and finished with 40 points. Anthony, who opened the game and missed 9 of his 1st 11 shots, became the 3rd player to reach 40 points in a win at Cleveland vs LeBron James. Kenyon Martin finished with 18 points and 17 rebounds for the Nuggets.
MORE: SC Highlight of the Night | Game Recap | Box Score
After the Jump, we go inside the Celtics one point victory over the Lakers and don't miss the updated medal count from the 2010 Vancouver Olympics.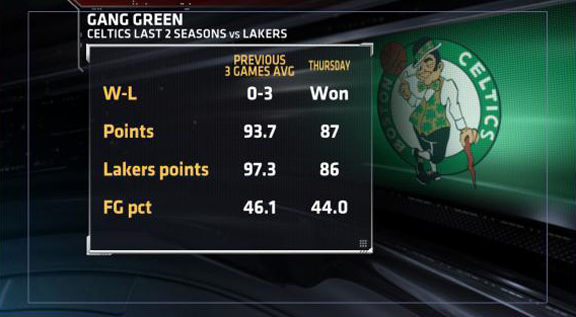 CELTICS HAND LAKERS FIRST LOSS SINCE BRYANT ANKLE INJURY: Ray Allen scores 12 of his game-high 24 points in the 3rd quarter as Boston snaps Los Angeles' 4-game win streak. Paul Pierce (13 points) is held under 20 points for the 6th straight game. Pau Gasol finishes with 22 points and 7 rebounds for the Lakers, who were without Kobe Bryant for the 5th straight game (high ankle sprain). The Lakers are 57-34 without Bryant in the lineup since he joined the team as a rookie in 1996-97 season. It's the Celtics' 1st win against the Lakers since Game 6 of the 2008 NBA Finals (lost previous 3 meetings, all in the regular season).
After losing all 3 previous meetings the last 2 seasons, the Celtics put the clamps on the Lakers Thursday, holding them to just 86 points. This after the Lakers had averaged 97 points a game against Boston in those previous 3 meetings, of course in those games the Lakers had a certain Mr. Bryant in uniform.
MORE: Highlight | Game Recap | Boston SportsCenter | L.A. SportsCenter
UNITED STATES RUNNING AWAY WITH GOLD: Evan Lysacek takes the gold in men's figure skating. He is the first American man to win gold in this event since Brian Boitano in the 1988 Games -- the last time the Olympics were held in Canada. Here is the updated medal count at the Vancouver Olympics. The Americans are starting to run away with things. The United States leads with 18 total medals and 6 golds. Germany in 2nd place with 11 medals, followed by Norway with 8.
MORE: Highlight: Lysacek wins gold, but debate rages on | Complete Medal Tracker | Lysacek ends gold drought for U.S. | U.S. Medal Beakdown