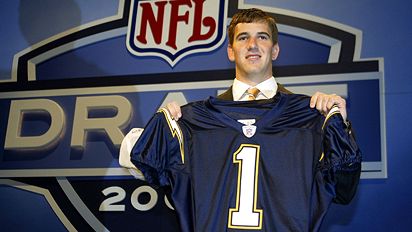 Chris Trotman/Getty Images
Like Eli Manning in "the other football," America's top soccer phenom would rather choose his own team.
Luis Gil is hailed as the best U20 player by US Soccer. All of 16 years old, the California native is so good that he's rumored to have had offers from top European clubs such as Arsenal and Real Madrid. However, Gil opted to sign with MLS instead, a real coup for the American league, who held a special weighted lottery specifically for his signing rights. The Kansas City Wizards ended up winning that jackpot, but don't expect the attacking midfielder to suite up for the club. Instead, word on the pitch is that he's intent on playing for the Seattle Sounders, Real Salt Lake or one of the Los Angeles-based franchises, and will force a trade to the West Coast.
This isn't the first time that a highly-regarded prospect has foiled the rebuilding wishes of a lucky losing team. Instead, Gil joins a select group of top picks who'd rather play in a market with better odds or a better supporting cast:
John Elway
Drafted: 1983 NFL Draft, first overall pick by the Baltimore Colts out of Stanford
Reservations: Didn't think the Colts could get him to the playoffs. Yet another dagger in the heart of old-school Baltimore fans.
Threatened to: Play baseball for the Yankees organization instead. We don't know what was more unpopular nationwide, the fact that he held out on the team he was drafted by or that his back-up plan was playing professional baseball for New York.
Fallout: Swapped to the Denver Broncos for QB Mark Herrmann, OL Chris Hinton and a first-round pick (which became OG Ron Solt). Elway went on to earn nine Pro Bowl selections and guided the Broncos to five Super Bowl appearances, winning in 1998 and 1999. Clearly, Elway and the Broncos came out on top of that particular deal.
Eli Manning
Drafted: 2004 NFL Draft, first overall pick by the San Diego Chargers out of Mississippi
Reservations: Details unknown, but Manning publicly refused to play for San Diego. Perhaps he doesn't like wild animal parks, or perfect weather.
Fallout: Moved to the New York City Football Giants in exchange for Philip Rivers and draft picks (which became Shawne Merriman and Nate Kaeding). Went on to spearhead Super Bowl XLII win and kill many a NYC-based fantasy football owner's season with statistical inconsistency. He also evolved into a champion Oreo-licker. Until the Chargers win a championship of their own with Rivers et al., the advantage has to go to the Giants.
Ricky Rubio
Drafted: 2009 NBA Draft, fifth overall pick by the Minnesota Timberwolves from DKV Joventut (Spanish team)
Reservations: Official line - "The reason leading me to take this next step is to have a period of preparation to better take the challenge of the NBA in better conditions as a player." Probable line - Googled Minnesota. Realized it's not exactly as warm as his native Catalonia, flashy as Los Angeles (a better fit for his Pete Maravich skills and Jonas Brother looks) or that Kevin Garnett now plays in Boston.
Fallout: Ricky returned to Spain, where Joventut traded his rights to Barcelona (the basketball wing of the club, not the soccer part). He signed a six-year deal, but says he intends to play for the Wolves some day. Meanwhile, the Timberwolves are currently at the bottom of the Northwestern Division, second worst in the league (thanks to New Jersey), and six years is probably starting to feel like a very long time from now.