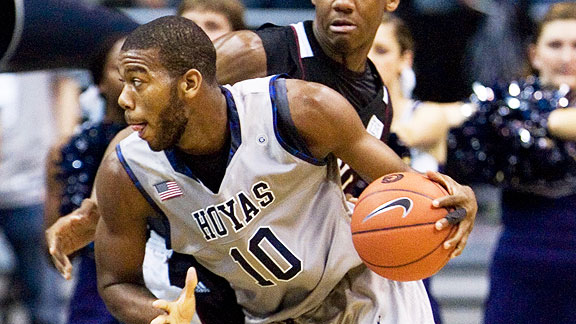 AP Photo/Manuel Balce Ceneta
(13) Georgetown (18-7, 8-6 Big East) vs Louisville (18-9, 9-5 Big East)
7:00 PM ET, February 23, 2010 -- Freedom Hall, Louisville, KY -- ESPN2
This will be the 10th all-time meeting between Georgetown and Louisville. Georgetown leads the series 5-4 and has won two of the last three meetings. Since Louisville joined the Big East, the series is tied 2-2. All 5 of Georgetown's win have come by 8 points or fewer. All 4 of Louisville's wins have been by 8 points or more.
Game Preview: (13) Georgetown vs Louisville
Game Preview: (4) Syracuse vs Providence -- 7:00 PM ET ESPNU
Game Preview: (6) Kansas State vs Texas Tech -- 8:00 PM ET ESPN360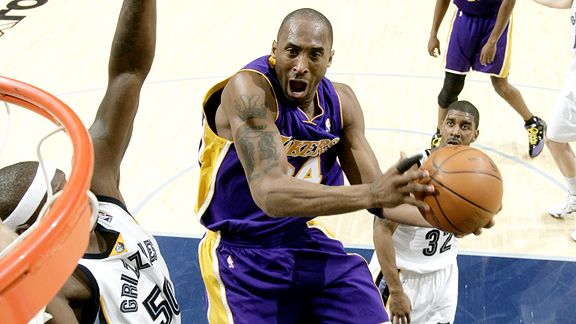 Joe Murphy/NBAE/Getty Images
Los Angeles Lakers (42-14) vs Memphis Grizzlies (28-27)
8:00 PM ET, February 23, 2010 -- FedExForum, Memphis, TN
After missing five games with an ankle injury, Kobe Bryant is expected to play tonight for the Lakers. It will be his 1,000th career regular season game - every one coming in a Lakers uniform. In franchise history, only Kareem Abdul-Jabbar played more games for the Lakers. Bryant could break the record during the 2010-11 season. Kobe will become the youngest player in NBA history to reach the 1000-game mark. Bryant, who has played 999 games to date, is 31 years, 184 days old - almost a full year younger than the current record-holder, Kevin Garnett (32 years, 165 days), was at the time of his 1,000th NBA game. Memphis PF Zach Randolph leads the Grizzlies in scoring, averaging 20.4 ppg.
Game Preview: Lakers vs Grizzlies
Game Preview: New Orleans Hornets vs Cleveland Cavaliers -- 7:00 PM ET
Game Preview: New York Knicks vs Boston Celtics -- 7:30 PM ET
..............................................................................................................................................
Note: The Elias Sports Bureau and ESPN Stats and Information group contributed to this report.