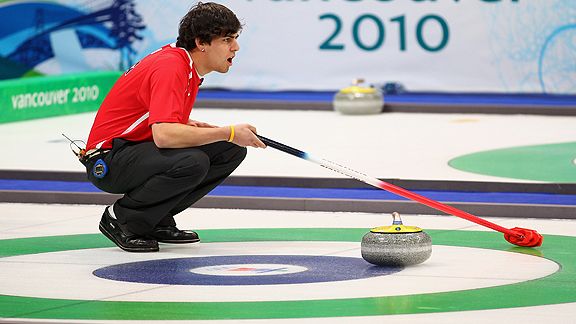 Alex Livesey/Getty Images
If you think Chris Plys is the bad boy of Olympic curling, wait until you see what the U.S. has in store for 2014.
On the brink of curling becoming the next national pastime, Skip John Shuster and the U.S. Men's Olympic Curling team let America's hopes and dreams slide away this week like cold, lifeless stones. After one final loss to the Chinese team, the U.S. men have been eliminated from competition with a lowly 2-7 record. This was not the result they were looking for after Shuster and the U.S. team brought home the bronze medal back in 2006.
The core of Shuster's tightly constructed team have been friends since childhood and live together in a two-bedroom apartment in Duluth, Minnesota, leaving curling enthusiasts everywhere to question whether a close team makes a good team. Maybe we should have seen this one coming - Shuster's team qualified for the Olympics without even winning the Tuesday night league at their local Duluth Curling Club (they came in second).
Their appearance as a single unit was possible, though, because curling, like bobsledding, is one of the few events in the Winter Olympics in which participants qualify as an already-formed team. While others may feel that the U.S. should adopt an All-Star qualifying approach next time around, we're convinced that there are no amount of trust falls on ice that can replace the reliability of teammates forged by the fire of common experience.
Which is why we're going on the record right now and beginning a campaign to recruit the Red Hot Chili Peppers to represent the U.S. at the 2014 Winter Olympics in Sochi, Russia. Just think about it for a second - Anthony Kiedis as the long-haired Skip, Flea as his unpredictable Vice, Minnesota-born drummer Chad Smith as the Second, and on-again off-again guitarist John Frusciante as the Lead. Come to think of it, one-time replacement Dave Navarro can even be the alternate.
This has to happen, and if we all band together (pun approved!), it will. Because if Team U.S.A. can't medal with skill, they can at least leave their mark on the Winter Games with a little style. And after all, what's more stylish than a world famous alternative rock band/curling team that rocks out with their red, white, and blue socks out?