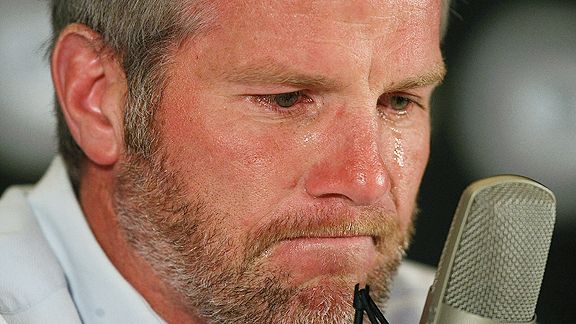 Photo: Jonathan Daniel/Getty Images
"Leno will know what to do about my retirement. He's good with that sort of thing."
Need career advice? Are you undecided about your future? Who better to speak to than Jay Leno? Once again contemplating retirement, Brett Favre is scheduled to appear on The Tonight Show Thursday, March 4th, Leno's first week back at the 11:35 time slot. Coincidentally, actor Matthew McConaughey is also scheduled to appear that evening. If Favre is still Dazed and Confused about his retirement, maybe McConaughey can influence his Failure to Launch.
As many of you know, this is not Favre's first time contemplating retirement, nor is it his first time discussing it on a late night talk show. In April 2008, after retiring from football for the first time, Favre appeared on the Late Show with David Letterman to discuss his future. Less than four months after reiterating his retirement to Letterman, Favre was suiting up for the New York Jets. While many of you will be tuning in next Thursday for the latest scoop on Favre's future NFL plans, if Jay Leno's 2004 speech has taught us anything, it's that we shouldn't take anything seriously when it's said on The Tonight Show.
Obviously, committing to one more NFL season on The Tonight Show would be a huge way to kick off Leno's first week back, but if Favre can wait until May to announce his plans, we can do one better. The two-hour finale of "Lost" is scheduled for Sunday May 23rd and we can't think of a better platform for Favre to announce his decision. It would be the greatest moment in TV history if after 6 seasons and 121 episodes, John Locke turned to the camera in "Lost's" closing seconds and peeled off his face to reveal Brett Favre who utters, "Surprise, I'm back."
Favre has one year remaining on his contract worth $13 million for 2010. Teammates Ben Leber and Ryan Longwell both believe Favre will suit up for the Vikes in 2010. But if Favre does call it quits next Thursday, at least we have this picture to remember him by. Man, he wears those jean shorts well.