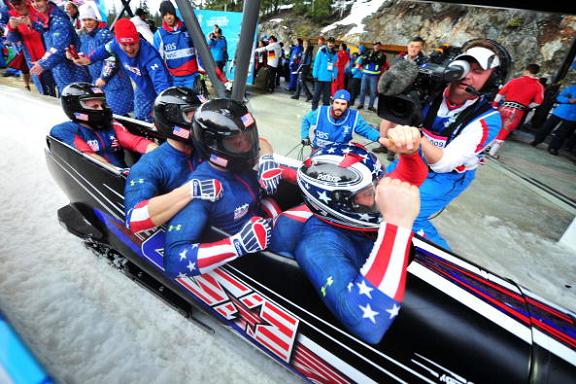 USA 1 celebrates after winning the gold medal during the men's four-man bobsled
Getty Images
U.S. Ends 62-Year Drought With Gold In Bobsled
Steven Holcomb drove USA-1 to the Olympic gold medal in four-man bobsledding, earning the first gold medal for the U.S. in sliding's signature race since Francis Tyler won one for the Americans at St. Moritz in 1948.
Chilean Athlete To Stay For Closing Ceremonies
A Chilean skier has decided to participate in Sunday's closing ceremonies at the Winter Olympics upon learning her family and friends escaped injury following a magnitude-8.8 earthquake that devastated the country.
#1 Kansas Beaten By Oklahoma State
James Anderson scored 27 points, Keiton Page was perfect on four 3-point tries at crucial times and Oklahoma State went on to defeat Kansas 85-77. The Cowboys shot 60.4 percent from the field and 52.6 percent from beyond the arc (10 for 19).
#2 Kentucky Goes Down Too - To Tennessee
#17 Tennessee watched #2 Kentucky erase a 19-point lead, but J.P. Prince wouldn't let the game slip away. With 90 seconds left, he scored on a broken play and added four clutch free throws down the stretch to lift Tennessee past the Wildcats 74-65.
After the jump: T.O. on the market, MJ a possible NBA owner, Danica wrecks and a win for the Nets!
T.O. Back On Market With Bills Not Offering Deal
Terrell Owens is on the market after the Buffalo Bills announced that they do not plan to offer him a contract. Owens, who will turn 37 in December, caught 55 passes for 829 yards and five touchdowns in his only season in Buffalo. On Twitter, Owens said, "I would like to thank the great fans in Buffalo, Ralph Wilson & the Bills organization for all their support this past season."
Harvick Edges Hamlin in Nationwide; Danica Wrecks
Kevin Harvick overcame a pair of poor pit stops to win the Nationwide Series race at Las Vegas Motor Speedway. After their first slow stop he told his Kevin Harvick Inc. crew, "You look like a bunch of idiots on pit road." Danica Patrick finished 36th in her third NASCAR race. She wrecked about halfway through the race when she ran into the lapped car of Michael McDowell.
Stern: Jordan's Ownership Could Get Fast OK
NBA commissioner David Stern said he expects Michael Jordan to be approved as majority owner of the Charlotte Bobcats by the end of next month. Minutes before his exclusive negotiating window expired late Friday night, Jordan struck a deal with owner Bob Johnson to take over the money-losing team in his home state.
Nets Earn Unlikely Win vs. Celtics
Center Brook Lopez scored 25 points and guards Devin Harris and Courtney Lee added 23 and 21 points as New Jersey topped Boston 104-96. The Nets, who are now 6-52 and 3-27 on the road, took a 29-27 lead on Keyon Dooling's jumper at the end of the first quarter and never trailed again.