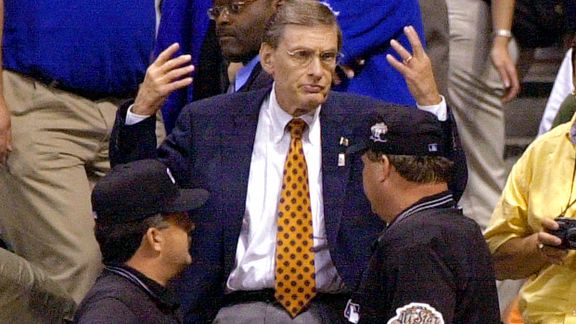 Photo: AP Photo/Charlie Neibergall
Major League umps sniff Bud Selig for commissioner-enhancing substances.
Bud Selig is looking into contraction. No, we're not talking about reducing the number of franchises - Marlins fans, you can rest easy. Instead, the commish agrees with Mike Scioscia and is working on trimming the 2010 playoff schedule so, you know, the boys of summer aren't getting snowed out.
After a little consideration, though, we wonder if Selig shouldn't do the opposite and add more breaks, turning the World Series into the real winter league. Think about the advantages:
It gives managers chance to experiment with single-starter rotation

The Tigers could play a traditional Thanksgiving game along with the Detroit Lions (that town needs all the national exposure it can get)

Come to think of it, the Yankees and Indians should probably be playing on Thanksgiving as well, right?

It's the perfect opportunity to roll out the mini Hot Stove hand warmer

Derek Jeter, Mr. December

Baseball finally finds its niche in Canada. Hit the moose, win a steak

Goose-down jerseys would totally agree with Charlie Manuel

Base-runners be warned: snow balls would take the old "hidden ball trick" to another level
Make it happen, commish. Together, we can end the Dominican Winter League's monopoly on our baseball attention.