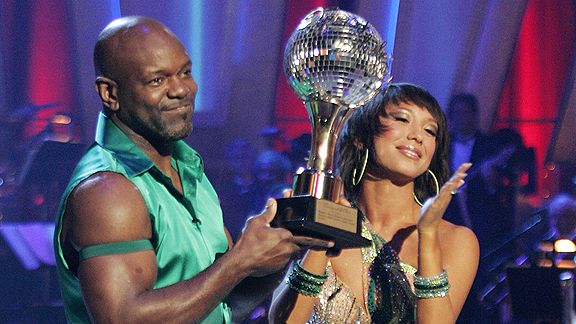 I'm putting this right in between my NFL MVP and my Super Bowl XXVII MVP awards.
We can stop holding our breath, ladies and gentlemen. The season 10 contestants of "Dancing With the Stars" were announced yesterday. And, as in past years, there's a sprinkling of athletes in the mix. So now there's only one thing left to do before the show premieres (March 22 on ABC) and that is to break down the odds of who's taking home the disco ball trophy thing. So here we go. You should probably hold your breath again.
It's a safe bet than an athlete will win. In the nine seasons "Dancing With the Stars" has run, athlete contestants have won the whole thing five times (Emmitt Smith in season 3, Apolo Anton Ohno in season 4, Helio Castroneves in season 5, Kristi Yamaguchi in season 6 and Shawn Johnson in season 8) and finished in the top three 10 times. Which makes sense. These people make a living by being physically fit, coordinated and, in the cases of figure skaters (like Yamaguchi) and gymnasts (like Johnson), graceful.
If we're agreed that all non-athletes are a long shot, we can say adios to all the actors, actresses and reality TV "stars." That means so long, dark horse Shannen Doherty. When you get to loserville, tell "90210" costar Jennie Garth (ousted from season 5) we say hello. And goodbye, Aiden Turner (of "All My Children" fame), Niecy Nash (from "Reno 911"), Kate Gosselin (fresh from the tabloids) and the newly engaged Jake Pavelka (of "The Bachelor"). You all (presumably) fought the good fight.
Now, the members of this next group are not athletes, per say. But they do have some athletic qualities about them. So, we consider them middle of the pack contenders. Like Pussycat Doll Nicole Scherzinger. Sure, she's a singer. But have you ever seen the Pussycat Dolls dance? Let's just say we wouldn't be shocked if she hung around. Same with Pamela Anderson, who was on the show "Baywatch" – a semi-athletic undertaking (all that running during the theme song!) – plus she was discovered while in the stands at a British Columbia Lions football game. So that counts for something.
Similarly, we expect decent things from Buzz Aldrin. Yes, we know he's 80 years old (actually we had to look that up), but dude graduated third in his class at West Point, was a fighter pilot in Korea and walked on the freakin' moon. We think he can hang in there with partner Ashly Costa for a few turns around the dance floor. And ESPN's own Erin Andrews? Well, you can just chalk this call up to company loyalty. Though, the World Wide Leader's last entrant, Kenny Mayne, did not fare very well. He was the first one tossed off season 2. But we won't mention that to Erin (Ooops).
As for the favorites, there's figure skater Evan Lysacek (that's "Olympic gold medal winning Evan Lysacek" to you) and Cincinnati Bengal Chad Ochocinco. We're putting Lysacek at even money. As noted above, athletes of the figure skating/gymnast variety have very good track records on the show. And if anyone's going to win this thing, we bet it will be a dude who can do this.
And we're setting Chad's odds at 3-1. Football players have made impressive showings on DWTS, but as history has shown, they are more likely to finish second than to win the contest outright. Jerry Rice, a receiver (like Senor 85), was second best in season 2, Jason Taylor was second in season 6 (behind a figure skater!) and Warren Sapp was the runner-up in season 7. And two football players – Michael Irvin and Lawrence Taylor – were on the show and didn't make it to the top three. Meanwhile, every single figure skater who has been on the show has won it all (OK there was only one).
The only gridiron star to win it outright was Emmitt Smith. And we just don't think Chad's moves can compare to Emmitt's. Though he is paired with two-time champ Cheryl Burke. And he does have some nice moves up his sleeve. We suppose only time, and the DWTS judges, will tell.