March 3, 2010 5:03 PM ET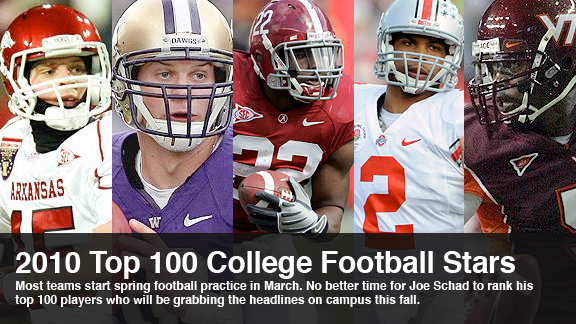 Now that Tim Tebow, Sam Bradford and Colt McCoy have left for the NFL, three new quarterbacks are getting ready to take center-stage at Florida (John Brantley), Oklahoma (Landry Jones) and Texas (Garrett Gilbert). So which players will generate the hype on Saturday afternoons this fall? ESPN's Joe Schad ranked the top 100 players whose names you need to know.
No surprise, Alabama has 7 of the top 100 players - highlighted by reigning Heisman Trophy winner Mark Ingram (#3) and wide receiver sensation Julio Jones (#8). Landry Jones (#31) and the Oklahoma Sooners have 6 and both Florida and North Carolina have 4 players who cracked the list.
RANK PLAYER SCHOOL POSITION
1
Ryan Mallett
Arkansas QB
2
Jake Locker
Washington QB
3
Mark Ingram
Alabama RB -
(Reigning Heisman Trophy Winner)
4
Terrelle Pryor
Ohio State QB
5
Tyrod Taylor
Virginia Tech QB
6
Kellen Moore
Boise State QB
7
Robert Griffin III
Baylor QB
8
Julio Jones
Alabama WR
9
Dion Lewis
Pittsburgh RB
10
Ryan Williams
Virginia Tech RB
11
A.J. Green
Georgia WR
12
Michael Floyd
Notre Dame WR
13
Noel Devine
West Virginia RB
14
Mark Herzlich
Boston College LB
15
Greg Romeus
Pittsburgh DE
16
Marvin Austin
North Carolina DT
17
Greg Jones
Michigan State LB
18
Matt Barkley
USC QB
19
John Brantley
Florida QB
20
Patrick Peterson
LSU DB
21
Luke Kuechly
Boston College LB
22
Case Keenum
Houston QB
23
Christian Ponder
Florida State QB
24
Jacory Harris
Miami QB
25
Von Miller
Texas A&M LB
26
LaMichael James Oregon RB
27
Garrett Gilbert Texas QB
28
Andrew Luck Stanford QB
29
Jeremiah Masoli Oregon QB
30
Jared Crick Nebraska DT
31
Landry Jones Oklahoma QB
32
Manti Te'o Notre Dame LB
33
John Clay Wisconsin RB
34
Jonathan Baldwin Pittsburgh WR
35
Stephon Gilmore South Carolina DB
36
Trent Richardson Alabama RB
37
Ryan Broyles Oklahoma WR
38
Chris Galippo USC LB
39
Vontaze Burfict Arizona State LB
40
Blaine Gabbert Missouri QB
41
DeAndre Brown Southern Miss WR
42
DeMarco Murray Oklahoma RB
43
Marcell Dareus Alabama DE
44
Jerrod Johnson Texas A&M QB
45
Evan Royster Penn State RB
46
Jacquizz Rodgers Oregon State RB
47
Dayne Crist Notre Dame QB
48
Alshon Jeffrey South Carolina WR
49
Travis Lewis Oklahoma LB
50
Russell Wilson NC State QB
51
Zach Collaros Cincinnati QB
52
Quan Sturdivant North Carolina LB
53
Bruce Carter North Carolina LB
54
Andre Debose Florida WR
55
Christine Michael Texas A&M RB
56
Rahim Moore UCLA DB
57
Allen Bradford USC RB
58
Aaron Murray Georgia QB
59
Cam Heyward Ohio State DT
60
DeAndre McDaniel Clemson DB
61
Jeremy Beal Oklahoma DE
62
Mohamed Sanu Rutgers WR
63
Bernard Pierce Temple RB
64
Allen Bailey Miami DE
65
Anthony Allen Georgia Tech RB
66
Jordan Wynn Utah QB
67
Bryce Brown Tennessee RB
68
Tate Forcier Michigan QB
69
Ronell Lewis Oklahoma LB
70
Aldon Smith Missouri DE
71
Donta' Hightower Alabama LB
72
Ray Ray Armstrong Miami DB
73
Shane Vereen California RB
74
Michael Mauti Penn State LB
75
Nate Irving NC State LB
76
Dre Kirkpatrick Alabama DB
77
Janoris Jenkins Florida DB
78
Stephen Paea Oregon State DT
79
Daniel Thomas Kansas State RB
80
Josh Nesbitt Georgia Tech QB
81
Kendall Hunter Oklahoma State RB
82
Juron Criner Arizona WR
83
Tyler Sash Iowa DB
84
Sam Acho Texas DE
85
Mark Barron Alabama DB
86
James Rodgers Oregon State WR
87
Akeem Ayers UCLA LB
88
Chris Rainey Florida RB
89
DaQuan Bowers Clemson DE
90
Adrian Clayborn Iowa DE
91
Andy Dalton TCU QB
92
Kyle Rudolph Notre Dame TE
93
Jewel Hampton Iowa RB
94
Russell Sheppard LSU WR
95
Vidal Hazelton Cincinnati WR
96
Brandon Saine Ohio State RB
97
Brandon Weeden Oklahoma State QB
98
Titus Young Boise State WR
99
Deunta Williams North Carolina DB
100
Greg Salas Hawaii WR
Top 100 Breakdown By Position:
QB--------26
RB--------21
LB--------15
WR-------15
DB--------10
DE--------8
DT--------4
TE--------1
Tags: Florida Gators, Sam Bradford, Tim Tebow, Joe Schad, Matt Barkley, Mark Ingram, Jake Locker, Ohio State Buckeyes, Ryan Mallett, Colt McCoy, Alabama Crimson Tide, Washington Huskies, Dion Lewis, Terrelle Pryor, Virginia Tech Hokies, Ryan Williams, Kellen Moore, spring football, Tyrod Taylor, Robert Griffin III, Julio Jones, 2010 Top 100 college football players