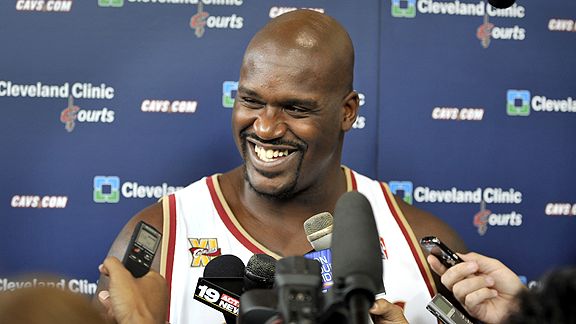 Photo: David Liam Kyle/NBAE via Getty Images
Shaq, is it true you're going to rid the city of Gotham Cleveland from evildoers?
If you're not a Clevelander then you probably didn't hear about the Shaq-A-Clause charity handout at Toys "R" Us or the Shaqs-giving dinner for the Cleveland Boys & Girls club this weekend. We're also wondering if you heard about Shaq's eagerness to police the streets of Cleveland? That's right, Shaq is once again looking for deputy sheriff status in another NBA city. According to the spokeswoman for the state attorney general, "O'Neal will not be allowed to carry a gun and make arrests without additional training."
Shaq was at the shooting range last week exploding targets as part of his test, but should Shaq be carrying a firearm if he has trouble shooting free throws? The guy is 7'1 and weighs as much as a grizzly bear so shouldn't his Shaq-Fu be enough to fight crime?
If Shaq completes the required training, he will become a special deputy of Ohio, a job normally reserved for retirees looking to work on private security jobs. An undercover task force led by Shaq is probably not the greatest idea; any stake out where your partner's head pokes through the sunroof is a bad start.
Star futboller Cristiano Ronaldo could learn a thing or two from Shaq about using his extra-time for more meaningful causes. While out with an injury earlier this month, Ronaldo agreed to sell grills shaped like soccer balls with none other than Michael Jackson's father Joe Jackson. Yes, this is really happening; ads will start in December.