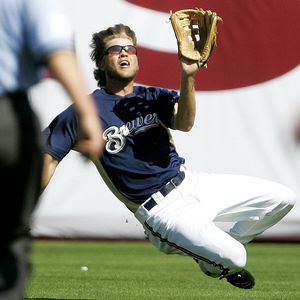 Photo: AP Photo/Lenny Ignelzi
Don't masquerade with the guy in shades, oh no.
After years of wearing sunglasses at night, Corey Hart will now be wearing goggles during the day. The Brewers rightfielder was diagnosed as nearsighted Wednesday after an intrasquad game. "It kind of started last year, but I didn't really think about it," he said. "I just kept playing. The ball was a little fuzzy at times, but I didn't think it was that big of a deal." Chances are if you're seeing 90-mph magweis at the plate, it is a big deal.
Hart bypassed vision correction last season through some nifty guesswork and apparent eye chart memorization. Hart joked that he must have "tricked them" a year ago. "I guessed right (on what letters were shown)," he said. "This year, I guessed wrong. By the third letter, I was like, 'Maybe 'H?' " We're sure fantasy owners who counted on Hart last season are glad to hear that confession.
Whether Hart realizes it or not, there is a silver lining in this situation. Opting for goggles over contact lenses and glasses affords him the ability to be inducted into the recently formed SportsCenter.com Goggle Hall of Fame. The criteria for the SCGHOF is pretty simple - look awesome in goggles.
Current Members of the SportsCenter.com Goggle Hall of Fame:
Chris Sabo: Without Sabo, eye goggles would have gone by the wayside with pogs. In a time when children with blurred vision had nobody to look up to, Sabo appeared. The Prince of Rec Specs won the 1988 NL Rookie of the Year and was a member of the Reds 1990 World Series team. He's not only a member of the SCGHOF; he's the president.
Buck Williams: Never has an NBA player looked so money rocking out the white goggles. Apparently his peers felt the same way as Williams was president of the NBA Players Association from 1994 to 1997. It's no coincidence when Williams was removed from office as a member of the Knicks, he was no longer wearing the goggles.
Horace & Harvey Grant: Do you have any idea how rare it is to find identical twins sporting goggles in professional sports? These are the ONLY two siblings to ever accomplish that feat. Which begs the question, when are we getting Super Grant Brothers for the Wii already?
Eric Dickerson: As if the sports perm wasn't enough to win us over, Dickerson one-upped himself with wrap-around eyewear. Defenders were so mesmerized by his coolness in 1985, they forgot to tackle him and he set the NFL record for rushing yards in a single season with 2,105. Dickerson is also looking to earn a spot in the Belt Hall of Fame with his brand new invention.