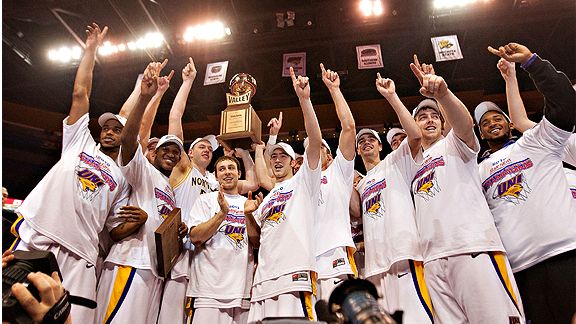 Northern Iowa repeats as MVC champs ... Advances to the NCAA tournament.
Tim Vizer/Icon SMI
Twins closer Joe Nathan is headed back to Minnesota to get his elbow checked out. Nathan had surgery in October to remove bone spurs and experienced discomfort Saturday against the Red Sox. Nathan said, he'll have more tests, but isn't too worried. Nathan was 2-2 with a 2.10 ERA with a career-high 47 saves last year.
New Deal For Kansas State's Frank Martin
Kansas State and head basketball coach Frank Martin have agreed to a three year contract extension - keeping Martin on contract with the Cats until the 2014-15 season. The new deal pushes Martin's annual salary to over a million and half bucks ... He's been one of the lowest-paid coaches in the Big 12 at around $250,000 annually. Martin already has been named the AP's Big 12 coach of the year. The Wildcats finished the regular season 24-6 overall and 11-5 in the Big 12, second to Kansas.
Last season, the Jacksonville Jaguars had the worst pass rush in the NFL -- just 14 sacks, the 5th-lowest total in league history. Sunday, the Jags signed free agent Aaron Kampman, who leaves Green Bay after 8 seasons and 2 Pro Bowls. Kampman has recorded 40 and-a-half sacks over the last 4 years.
After the jump ... trouble for Jason Ferguson, Bengals maybe thinking about T.O., Tony Parker hurt and a good day for Kurt Busch and Camilo Villegas.
NFL Suspends Ferguson Eight Games For Performance-Enhancing Substances
Free agent Jason Ferguson, a veteran nose tackle most recently with the Miami Dolphins, has been suspended for the first eight games of next season for violating NFL policy on performance-enhancing substances.
The Cincinnati Bengals need a WR and there just so happens to be one available coming off a lost season in Buffalo. Terrell Owens is a free agent and the Bengals have interest. According to his agent, Drew Rosenhaus, Cincinnati has been in contact with the controversial receiver. Current Bengals WR Chad Ochocinco has said numerous times this off-season he would welcome the addition of Owens to his team. Despite Owens' combative reputation with his QBs, even Carson Palmer is on board with bringing him to the Bengals.
Spurs guard Tony Parker left Saturday's game with a broken hand that could keep him out for 6 weeks. Parker was scrambling for a loose ball when he broke a bone in his right hand. "I knew it was a scrum," forward Tim Duncan said. "He said he reached for the ball, and hit the ball or hit a body or a hand or something." The team confirmed the injury to their star point guard but would not speculate on how long he will be out. Spurs coach Greg Popovich, however, said after the game Parker would be out 6 weeks.
Kurt Busch Gets 1st Cup Win Of '10 At Atlanta
Kurt Busch survived a couple of restarts and 16 extra laps to win at Atlanta Motor Speedway. Busch won the race at the tri-oval for the second year in a row, beating Matt Kenseth to the line by nearly half a second. Juan Pablo Montoya was third, followed by Kasey Kahne and Paul Menard. The race went 341 laps instead of its scheduled 325 because of two big crashes.
Villegas Hangs On To Win Honda Classic
Camilo Villegas shot a final-round 68 to win the Honda Classic by five shots Sunday over Anthony Kim, his third PGA Tour victory and a perfect way to cap the week. "I've just had good vibes in me all week," Villegas said, who climbed to No. 12 in the world rankings.