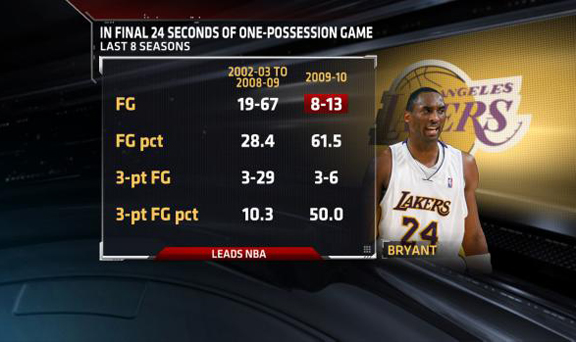 Lakers 109, Raptors 107
KOBE DOES IT AGAIN: Kobe Bryant hit a fadeaway jumper with 1.9 seconds left as the Lakers snapped a 3-game losing streak, their longest since January 2008. It was Bryant's 6th game-winning field goal in the final 10 seconds this year, the most in the NBA in the last 10 seasons. Bryant scored a game-high 32 points and upped his career scoring average to 28.5 points vs the Raptors, his 2nd highest vs any opponent (30.7 vs the Bobcats)
MORE: Game Recap | Box Score | Highlight | L.A. SportsCenter
After the jump, we're not done showing you Kobe's amazing stats just yet, see who's the hottest team in the NBA since the NBA All-Star break and find out if the numbers justified the Chiefs signing of Thomas Jones.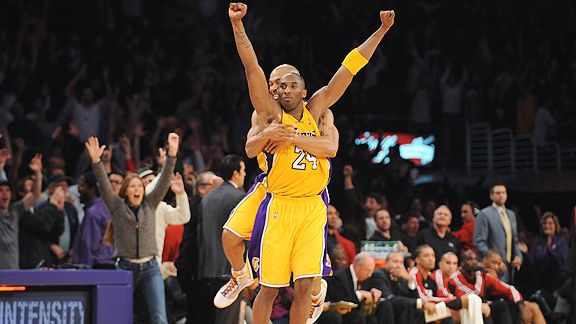 Kobe Bryant GW FGs With 10 Seconds or Less Remaining This Season
Dec. 4, 2009 vs Heat
Dec. 16, 2009 vs Bucks (OT)
Jan. 1, 2010 vs Kings
Jan. 31, 2010 vs Celtics
Feb. 23, 2010 vs Grizzlies
March 9, 2010 vs Raptors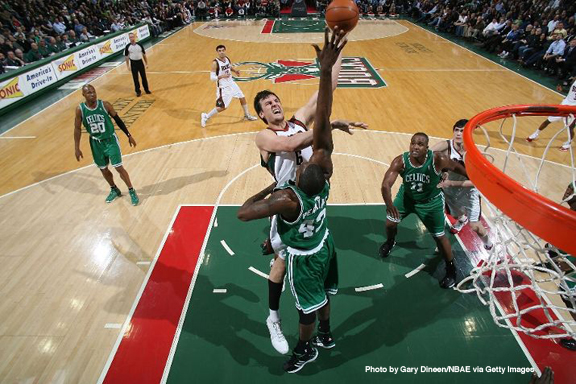 Bucks 86, Celtics 84
BUCKS SURVIVE CELTICS RALLY: The Bucks improved to 10-2 since the All-Star break led by 25 points and 17 rebounds from Andrew Bogut, his 2nd game of the season with at least 25 points and 15 rebounds. Bucks have won 4 straight and 10 of their last 11. Rajon Rondo led the Celtics with 20 points as Ray Allen and Paul Pierce combined for just 15 points on 3-16 shooting. Allen played 34 minutes marking the 1st time in his career he played at least 30 minutes and did not make a FG. The Celtics outscored the Bucks 18-3 in fast break points. The loss snaps the Celtics 4-game win streak.
MORE: Game Recap | Box Score | Highlight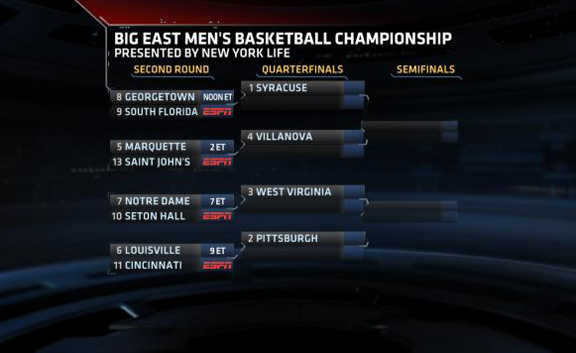 St. John's 73, Connecticut 51
ONE AND DONE: Needing to make a long run in the Big East Championship to keep its NCAA tourney hopes alive, Connecticut instead lost by 22 to St. John's in the 1st Round. It's Connecticut's 6th-straight loss in the Big East Championship, the 3rd-longest streak in the history of the event. Connecticut has lost its last 4 games, its longest losing streak since the 2006-07 season. UConn has lost 15 games this season, tied for the 2nd most under Jim Calhoun. In Calhoun's 1st season in Storrs, the Huskies went 9-19.
MORE: Game Recap | Box Score | Highlight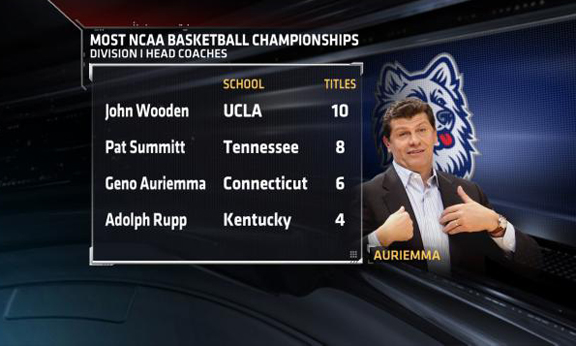 Women's College Basketball:
(1) Connecticut 60, (7) West Virginia 32
72 AND COUNTING: Connecticut captured its 16th Big East Tournament title and won its 72nd consecutive game. The Huskies are headed to the NCAA Tournament for the 22nd consecutive season. It is the 5th time the Huskies have entered the Big Dance without a loss. Connecticut led by just 5 points (33-28) before closing the game on a 27-4 run. West Virginia's 32 points are the fewest in a Big East title game, breaking the mark Louisville set last year vs Connecticut (36). The 60 points are Connecticut's 2nd-fewest during the 72-game win streak; the fewest came Monday vs Notre Dame (59). Maya Moore and Tina Charles combined to shoot 9-of-31 (29.0%) from the field. If the Huskies can win the NCAA tournament, head coach Geno Auriemma will be one step closer to catching arch-rival Pat Summit with 8 career National Titles (He currently has 6). John Wooden's 10 National Championship titles is the record.
MORE: Game Recap | Box Score | Unheralded Greene leads Huskies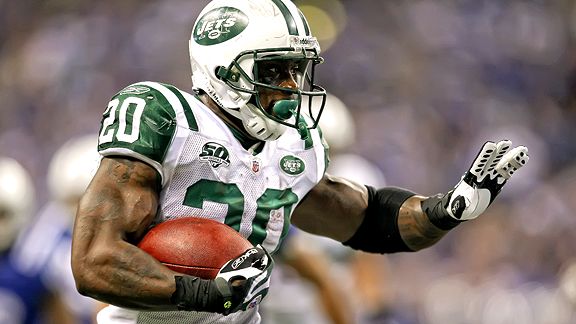 CHIEFS SIGN JONES TO 2-YEAR DEAL: Thomas Jones adds depth to a Chiefs backfield that already includes Jamaal Charles, who was fantastic down the stretch in 2009. ESPN's Adam Schefter reports Jones' contract is for two years and $5 million. Jones is coming off one of the greatest rushing seasons in Jets franchise history. New York released Jones last week rather than pay him a $3 million roster bonus. Jones rushed for 1,402 yards and a club-record 14 touchdowns. But he'll turn 32 at his next training camp, making the money tough to spend. Looking at the numbers, he's the only back older than 30 to rush for over 2,600 yards over the last 2 seasons.
Most Rush Yards Over Last 2 Seasons Age (End of '09 Season)
Chris Johnson 3,234 (24)
Adrian Peterson 3,143 (24)
Thomas Jones 2,714 (31)
DeAngelo Williams 2,632 (26)
Most Seasons 1,000 Rush Yds After Turning 30
Emmitt Smith: 3
Walter Payton: 3
John Riggins: 3
Thomas Jones: 2 (tied with many)
Note: The Elias Sports Bureau and the Elias Sports Bureau contributed to this report.