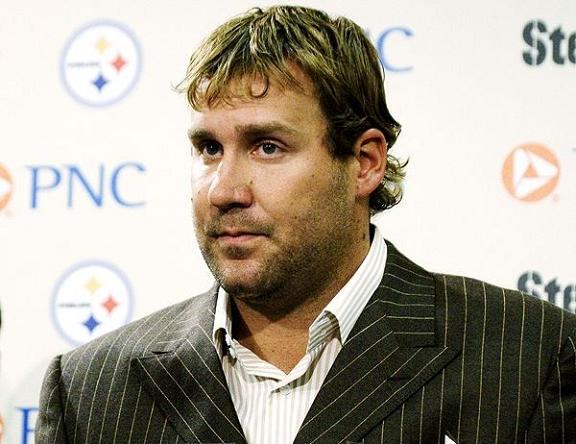 AP Photo/Gene J. Puskar
Report: Roethlisberger Denies Allegation
Details surfaced late Wednesday on what Ben Rothlisberger told police the night of the alleged sexual assault. Sources told KDKA in Pittsburgh that Rothlisberger conceded that he did have contact with the woman, but did not have sexual intercourse. He also said after the contact, the accuser slipped and fell, injuring her head. Meanwhile, the Georgia Bureau of Investigation still has yet to interview Rothlisberger and is also asking for his DNA, a request which Rothlisberger's attorney has not agreed to. But special agent Tom Davis stresses there is no timetable on the investigation. Also reported by the Pittsburgh Post Gazette, a police officer and a state trooper were part of his group the night in question ... Both are said to be cooperating with authorities. No charges have been filed against the Steelers quarterback.
Garciaparra Retires a Red Sox, Joins ESPN
Nomar Garciaparra has ended his career where it began. He announced his retirement from baseball Wednesday as a member of the Boston Red Sox, signing a one-day contract. He will now join ESPN as a baseball analyst. "After years of enjoying the privilege of playing this great game wearing Red Sox, Cubs, Dodgers, and A's jerseys in front of truly amazing fans, today I've decided to end my playing days," Garciaparra said. "I've been blessed to have had a long career as a player and feel fortunate to continue this great journey as a member of the ESPN team."
The Cleveland Cavaliers are expected to have LeBron James back in the starting lineup Friday night when they visit the 76ers. James has missed the last two games to rest his injured right ankle. The Cavaliers have the NBA's best record at 50-15. The King is back and Antawn Jamison is out, listed as day to day with a sore knee.
After the jump ... The Bengals get their receiver, the Browns still dealing, Chris Chelios back to the NHL and the Final Four in 3-D ...
Wide receiver Antonio Bryant agreed Wednesday to a four-year deal with the Cincinnati Bengals. Bryant had career highs of 83 catches for over 1,200 yards and seven touchdowns in 2008 with Tampa Bay. He needed surgery for torn cartilage in his left knee during training camp last year and was bothered by pain in the knee all season. He finished with 39 catches for 600 yards and four touchdowns. Cincinnati's addition of Bryant makes it less likely that the Bengals will sign Terrell Owens. A league source told ESPN's Adam Schefter that the Bengals never made Owens an offer.
The Cleveland Browns released Derek Anderson Tuesday and Brady Quinn may be next. The team has offered Quinn to other teams, league sources told ESPN NFL Insider Adam Schefter Wednesday. The Browns may also pursue other QB options as well through trade, free agency or the draft, according to multiple league sources. Cleveland already has added former Seattle Seahawks QB Seneca Wallace.
Three doctors have cleared Detroit Pistons PG Rodney Stuckey for exercise after passing his heart evaluation. The 23-year-old Stuckey collapsed on the bench during Friday's game at Cleveland and was taken away on a stretcher. He missed Sunday's game against Houston and Wednesday's against Utah. Stuckey missed two games last year after experiencing dizziness during a game. The third-year pro from Seattle is averaging 17 points, five assists and four rebounds for the Pistons.
Savard Could Miss The Rest Of The Season
Boston Bruins center Marc Savard could miss the 17 games remaining in the NHL regular season. He suffered a Grade 2 concussion Sunday after a hit to his head by the Penguins' Matt Cooke. The league still has not announced any kind of discipline for Cooke, but said he would not be suspended.
Chris Chelios will once again lace up the skates on NHL ice. The 48-year-old defenseman has been called up by the Atlanta Thrashers, GM Don Waddell told ESPN.com Wednesday. Chelios had 22 points (5-17) in 46 games with the AHL's Chicago Wolves this season. He signed an NHL deal with the Thrashers March 2. The Wolves are Atlanta's primary AHL affiliate. Chelios will be back in the league for the first time since last May 27 when he was with the Detroit Red Wings against the Chicago Blackhawks in the Western Conference finals.
College basketball's Final Four will be shown in 3-D at movie theaters around the country. CBS announced that the men's basketball national semifinals on April 3 and the championship game April 5 will be broadcast in 3-D in up to 100 theaters. TV networks have been experimenting with airing sports events in 3-D in theaters and ESPN is planning to launch an entire 3-D channel. Fans attending the Final Four festivities in Indianapolis also can view the games in 3-D at locations throughout Lucas Oil Stadium and at the NCAA's interactive fan event.
Indications are that Tiger Woods might be back on the course sooner rather than later. The agent for the world's No. 1 golfer showed up at Doral Tuesday, site of this week's CA Championship. And while Tiger has already missed the deadline to enter and play the Blue Monster, it's the 1st time his agent has visited a PGA Tour event this year. And he represents Tiger and no one else.