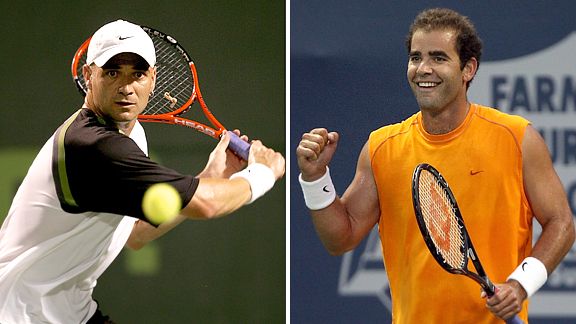 Getty Images
Whoever thought you'd see a side-by-side photo of these two where Sampras was the flashier dresser?
Andre Agassi and Pete Sampras exchanged some words over the weekend in a hilariously awkward few minutes at the Hit for Haiti charity fundraiser in Indian Wells, Calif. If you haven't seen the footage of Sampras imitating Agassi by walking around all pigeon-toed and Agassi imitating Sampras by turning out his empty pockets while their teammates (Roger Federer and Rafael Nadal) looked on uncomfortably, watch it now. Seriously.
Then consider this question: do Sampras and Agassi top the list of all-time sports frivals? And remember, there are plenty of great rivals out there, but we're talking about FRIVALS, a mix between FRIENDS and rival. In other words, they have (or had) to be friends, supposed friends, or teammates but would also love nothing more than humiliating the other in front of a large crowd of onlookers. In compiling our list, we quickly realized one thing: all frivals are not created equal.
*One Friendship Bracelet Frivals: They're friends and rivals, sure. But that deep-seeded, underlying hatred is/was always missing.
Dave Johnson and Dan O'Brien – USA Track and Field Teammates
The two chummy decathletes were pitchmen for Reebok in its quest to drum up support for the 1992 Olympics. Only, um, Dan didn't make the games. Promo FAIL.
Marc Cuban and Jerry Jones – Dallas Pro Sports Owners
These two have been palling around lately and even co-hosted the NBA All-Star game at Cowboys Stadium in February. But why do we get the feeling that Cuban, the Dallas Mavericks owner, and Jones, the Dallas Cowboys owner, are both secretly hatching diabolical plots to vanquish each other? As they say, keep your friends close and your enemies closer.
**Two Friendship Bracelet Frivals: One's success definitely diminishes the others' success. We suspect they don't like each other deep down, but they resist trashing each other in public.
Derek Jeter and Alex Rodriguez – New York Yankee Teammates
It was all handshakes and hugs when A-Rod joined Jeter's team in 2004. But after Jeter bumped A-Rod from SS to 3B, and A-Rod seemingly brought a hex on the team (last year's World Series win notwithstanding), their bromance quickly cooled.
Peyton Manning and Tom Brady – NFL Poster Boys
Not only are they fighting for the title of best QB of their time, they're AFC rivals, each with an MVP title and Super Bowl ring. Yet they claim to be friends. More likely, they don't spat publicly because they don't want to ruin their image and lose out on any endorsements. Or endorsements. Or endorsements.
Ted Williams and Joe DiMaggio – Old Time AL East Rivals
The owners of two of baseball's unbreakable records (plus-.400 average and 56-game hit streak) were fierce rivals on the field. And though Williams counted Joe's brother, Dom, as one of his best buddies, Joe (a Yankee) and Ted (a Red Sox) shared a mutual contempt. Joe stated publicly he thought Williams was nothing more than just a hitter. Ted said to anyone who would listen that he was the better hitter than Joe.
***Three Friendship Bracelet Frivals: Top-of-their game rivals. They've talked plenty of smack and most definitely meant it.
Larry Bird and Magic Johnson – Opposite Coast NBA Rivals
Before they were East Coast/West Coast rivals with the Celtics and Lakers, respectively, they were NCAA rivals with Johnson's Michigan State Spartans besting Bird's Indiana State in the 1979 NCAA finals. They met three times in the NBA Finals before playing teammates at the 1992 Olympic Games. How much did they hate each other? After the Celtics bested the Lakers in the 1984 NBA finals, Bird said of Magic, "I hope he was hurting. I hope it killed him. He made some bad plays down the stretch, and nobody was happier than me." The only thing keeping them from four friendship bracelets is the fuzzy feelings they've shared since their playing days. At Bird's retirement ceremony in 1993, Johnson even wore a Celtics shirt under his Lakers warm-ups. And now they can't get enough of each other.
Geno Auriemma and Pat Summitt — Women's Basketball Royalty
At first, Pat and Geno were all "he pushes me to be a better coach" and vice-versa. But something happened back in 2007 to cause Summitt to cancel Tennessee and UConn's annual game. Summitt never gave a reason, but Auriemma guessed at one: "I think she should just come out and say she's not playing us because she hates my guts," he said. Ouch.
Pete Sampras and Andre Agassi — '90s Tennis Stars
If the video above doesn't cover it, we don't know what does. Although it is worth noting that these two guys were at each others' throats on the court in the 90s, playing each other 34 times from 1989 to 2002, with Sampras winning 20 matches. They had contrasting styles of play (Agassi was a quick charismatic player with a strong baseline game, Sampras was your classic serve and volley guy) and contrasting images (see Pete and see Andre). It's also worth noting that Agassi has apparently tried to apologize to Sampras for calling him out as a bad tipper in front of thousands of fans, but Pete's having none of it. At this rate, the pair could hit four bracelet status sooner rather than later.
****Four Friendship Bracelet Frivals: Pure hatred and/or physical harm.
Nancy Kerrigan and Tonya Harding – Women's Figure Skating
They were supposed to join forces to represent Team USA at the 1994 Olympics, but Harding's ex-husband and bodyguard decided to attack and injure Kerrigan instead. The two competed together in Lillehammer and Kerrigan got the last laugh, winning a silver while Harding finished eighth. Then she really got the last laugh when Harding took up boxing.
John Terry and Wayne Bridge – English Footballers
Terry and Bridge used to be thick as thieves until allegations surfaced that Terry hooked up with Bridge's ex-girlfriend! Now, needless to say, the two defensemen hate each other. Bridge snubbed Terry in a pre-match handshake when their Premier League teams met in February. But the reason we're giving them four bracelets? The drama caused Terry to lose the captaincy and BRIDGE TOOK HIMSELF OFF THE NATIONAL TEAM rather than play alongside Terry. That's hate.
Shaquille O'Neal/Kobe Bryant – Ex-NBA Teammates, Current NBA Rivals
Do we really need a blurb for this one? We think Shaq said it all in his infamous rap video.
So that's that. Did we miss anyone? Let us know in the Comments section.