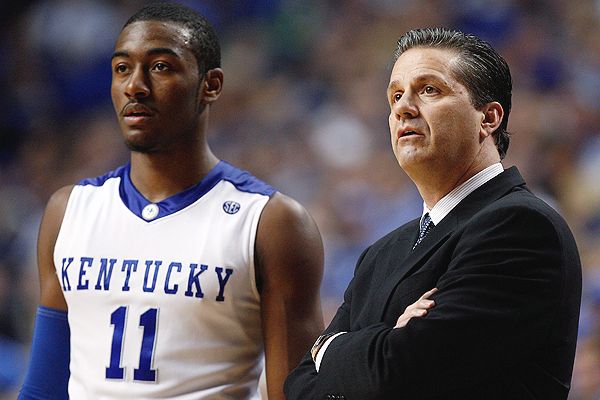 Andy Lyons/Getty Images
John Wall and Coach Calipari can't wait to hear what Joe has to say, either.
As you may remember, ESPN.com has a Tournament Challenge, which involves filling out an NCAA bracket for a chance to win $10,000 (not by random drawing but by, you know, having the closest bracket). And as you may remember, Joe Taylor won said challenge last year.
Well, as we here at SportsCenter.com started filling out our own brackets, we thought, "who better to ask for advice than Joe?" So we had a little chat with him. Actually, it was less of a chat and more of an e-mail conversation, as Joe is on vacation. Such is the life of the Tournament Challenge winner.
Lucky for you, we're sharing his advice. So check it out. Then hurry and fill out your bracket. And before you say, "oh, I never win those things," just know, Joe himself says he'd done "OK" with brackets before but he'd never done as well as last year. So, don't sell yourself short. Anyway, on to the questions.
SportsCenter.com: What are your "Bracket Rules to Live By"?
Big Bracket Joe (we made that nickname up just now. Nice, right?): Rule #1: Don't pick with your heart (unless you really believe your team can win it all like with me last year) Rule #2: A 12 seed will beat a 5 seed, that is something anyone who picks brackets knows. Rule #3: All #1 seeds will not make the final 4.
Good advice (as we toss our Wake Forest takes it all bracket in the trash). It's also worth noting that Joe's favorite team is North Carolina, who he correctly picked to win it all last year. And for those of you who are wondering, he did not fill out an NIT bracket this season.
SCDC: Where should we look for an upset this year?
BBJ: This year is wide open but I would look in the South bracket. Every year when they say someone has the easy way to the Final Four that #1 seed never gets there. I like Texas A&M (why, I don't know, so they will lose in the first round).
You like A&M so they'll lose in the first round? Sorry BBJ, the self-deprecating card is a hard one to play when you're known as "they guy who won the bracket." We're taking them … .
SCDC: If you had to have one ESPN personality pick your bracket for you, who would it be?
BBJ: I would say none of them, they [usually] take the obvious. Even though, I hate to say, I like Jay B (yeah, a Duke grad). He tries not to be [biased].
That's college basketball analyst Jay Bilas, for those of you who aren't on a one-initial basis.
SCDC: What do you look for in a Cinderella?
BBJ: Look for a smaller conference team that plays a different style from a major conference team — you don't get enough time to prepare for them. I really don't see a seed lower than a #6 to get past the Sweet 16, so I don't see Cinderella get far this year (like the year George Mason got to the Final 4).
Also known as the only year "George Mason" became a Google search trend.
SCDC: Lots of people enter multiple NCAA pools. Do you recommend filling out the same bracket for every pool or filling out a different bracket for each pool?
BBJ: I used to fill out different brackets for each pool but I didn't realize the flak for filling out multiple brackets, so from here on out I only fill out one bracket. If you win, then you don't have to hear the field talk bad about you, even though that will happen no matter what.
Wow. We never knew bracket winners took such flak.
SCDC: In a cat vs. dog mascot match-up (say the Kentucky Wildcats were playing the Butler Bulldogs) you should always take the dog, right?
BBJ: The cat vs. dog thing means nothing because if Butler played Kentucky you would take Kentucky, so I don't believe in that.
As you can see, Joe takes his bracket very seriously. As should you. We, on the other hand, have a weakness for dogs. Maybe that's why we've never won … .
SCDC: What matters more in a total tossup matchup? Team seed, team uniform color, or famous alumni?
BBJ: The seed is probably the best to use out of these, a team can seem like they have the advantage, but if they are a 12 vs. 5 that can sway your thinking.
So you're saying Ashley Judd is useless?
SCDC: Which #1 or #2 seed will fall soonest this year?
BBJ: Villanova or West Virginia (not picking on the Big East, Big East fans) only because of the match-ups they could have.
Don't worry, Big East fans. Just because Joe says it doesn't mean it's true. Or does it? (cue scary music here)
SCDC: Best person to go to for tossup matchup advice: significant other, co-worker, 5-year-old, sports analyst, grandmother … .
BBJ: Sports analyst. It's their job to do more research than the average person. That does not mean they will be right though.
No it does not. You hear that, Andy Katz! You hold no power over us! But seriously, who do you have in the Final Four, Andy? Who?
SCDC: When you know your team's not going to win it all one year, what's the deepest in the bracket you'll let allegiance take you?
BBJ: It depends on who they are playing. If they don't have a good match-up in the Sweet 16 I will pick against them. Allegiance will not help you win, again that is rule #1.
And so we've come full circle. So this is the perfect opportunity to thank Joe profusely and wish the rest of you all a very happy bracket filling.