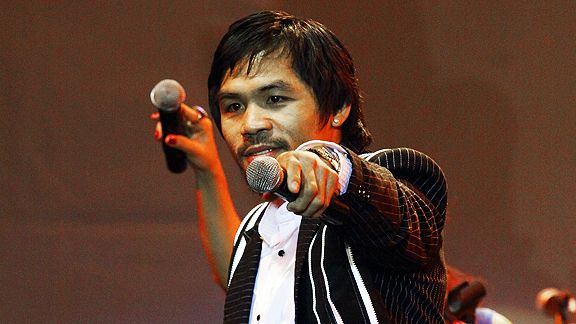 Photo: Mark Nevales/AFP/Getty Images
"When I say Pac, you say Man!"
Just three days after defeating Joshua Clottey by unanimous decision, Manny Pacquiao got KO'd ... from his musical performance at Hawaii's Waikiki Shell for a lack of tickets sales. Saturday's welterweight showdown from Cowboys Stadium drew 50,994 people, but as of Tuesday afternoon, only 603 people purchased tickets for the "Manny Pacquiao Live In Hawaii Concert Celebration," leading to its cancellation. Pac-Man's selection of "Sometimes When We Touch" on Jimmy Kimmel Live will forever be questioned.
Tickets to the performance ranged from $25 to $150, but according to Ryan Chang of Island Fire Productions investors were about 1,900 tickets short of making their money back. "The Shell holds about 8,500 people and we only needed to sell about 2,500 tickets to break even and we would have been happy ... . As it stands I'll be taking about a $50,000 loss," said Chang. Pacquiao's payday from Saturday's fight is estimated between $17 million and $20 million. At $25 per ticket, it would cost Pacquiao $47,425 to purchase the 1,897 tickets needed to keep the concert on. We're just saying.
Musical genius or not, we're a bit surprised the "Fighting Pride of the Philippines" couldn't draw the required crowd. It's possible Pacquiao lost some fans during a recent karaoke performance in his homeland, especially if he sang Sinatra. He may not be aware, but "My Way" is not the song of choice in the Philippines. Chang did mention he's hoping to bring Pacquiao back to Hawaii in the near future. The more important question is, what happens to our DVD preorders of this concert?
Perhaps next time around Pacquiao should book an opening act. Sticking with the boxing theme, how about Roy Jones Jr.? If we were guaranteed a live rendition of "Y'all Must've Forgot" by the former champ, we'd book our flights to Hawaii tomorrow.