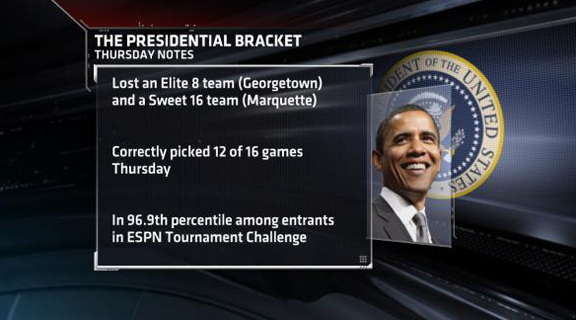 THE PRESIDENTIAL BRACKET: First the bad news for the President's bracket. The Big East cost president Obama an Elite 8 team and a Sweet 16 team when Georgetown and Marquette both went down. But the good news is that the President correctly picked 12 of 16 games putting him in the 96th percentile among the over 4 and a half million to enter ESPN.com's NCAA Tournament Challenge. Overall, entering Friday, there are just 56 perfect brackets left (that's 0.0012 percent of the 4,779,244 total entries) in the Tournament Challenge.
After the jump, more amazing number from day 1 of the NCAA tournament.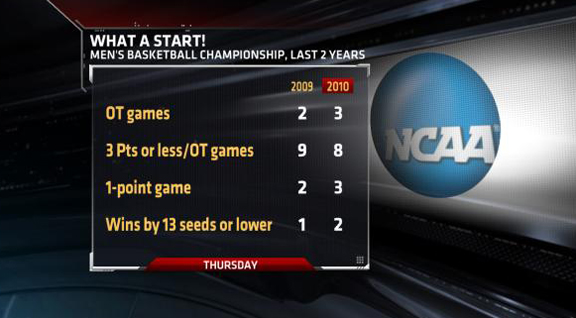 40 MINUTES NOT ENOUGH: Was Thursday the most exciting day in the history of the Men's Basketball Championship? You can certainly make that case, as 7 of the 16 games played on Thursday were decided by 3 or fewer points, 7 were won by the lower-seeded team and 3 went to overtime. It's the 1st time since the field was expanded to 64 teams in 1985 that there have been at least 8 games decided by 3 or fewer points on one day.
HOW DO YOU LIKE ME KNOW: Tourney Challenge tids - just 2.4 percent of all entries predicted Ohio would beat Georgetown. In fact 7.9 percent had Georgetown in the final 4. Twitter how your brackets looks @SportsCenter.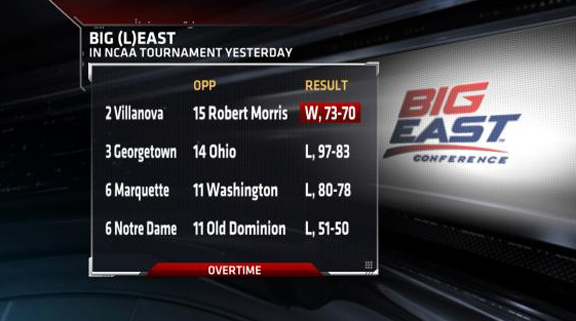 WHAT HAPPENED TO THE BIG EAST: Not a banner day for the highly touted Big East: 1-3 with the lone win coming for 2 seed Villanova who was taken to overtime by 15th seed Robert Morris. With 4 teams left to play today, the Big East has already tied for the most losses in the first round since the field expanded in 1985. Game Recap: Villanova-Robert Morris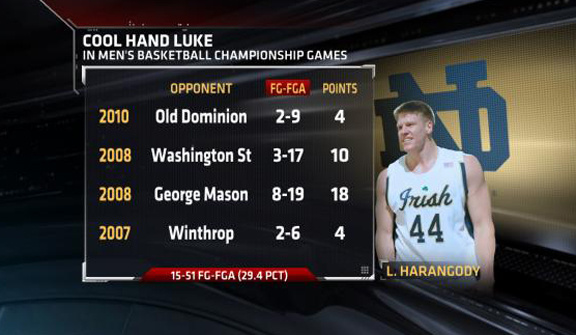 NOT SO LUCKY: He may be the Big East all-time leading scorer, but Luke Harangody has been abysmal in the Men's Basketball Championship. In four tournament games, Harangody has scored a TOTAL of 36 points and shot less than 30 percent from the floor. That's 9.0 PPG, 15-51 from the floor (29.4 FG pct). Against ODU, he posted 4 points and 7 rebounds. Only time will tell if these numbers will hurt his draft stock. MORE: Game Recap: ND-ODU
NOTE: The Elias ports Bureau and ESPN Stats and Information group contributed to this report.