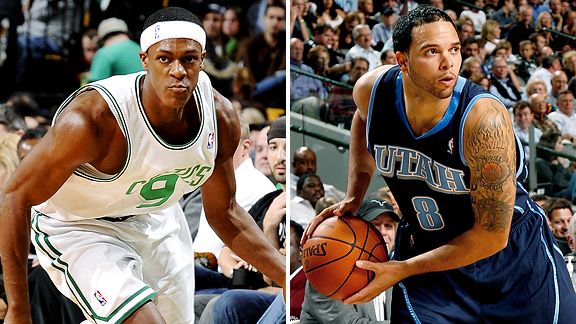 Getty Images
Boston Celtics (45-24) vs Utah Jazz (45-25)
9:00 PM ET, March 22, 2010 -- EnergySolutions Arena, Salt Lake City, UT
Celtics PG Rajon Rondo, who leads the team with 9.7 assists and 2.4 steals/game, will have his hands full against Jazz PG Deron Williams, who is averaging 18.3 points and 10.3 assists/game. The Celtics have won 5 of their last 6 road games vs Western Conference opponents, including 2 straight. Boston has looked particularly strong this month, winning 9 of 12, including the last four by an average of 13.5 points. While Boston has a commanding lead in the Atlantic and can clinch a playoff spot with a win or a Bulls loss, Utah trails Denver by two games in the Northwest Division. The Jazz have won three of their last four and seven of 10. They bounced back from a 10-point loss at Phoenix on Friday, returning home to defeat New Orleans 106-86 the next night.
Game Preview: Celtics vs Jazz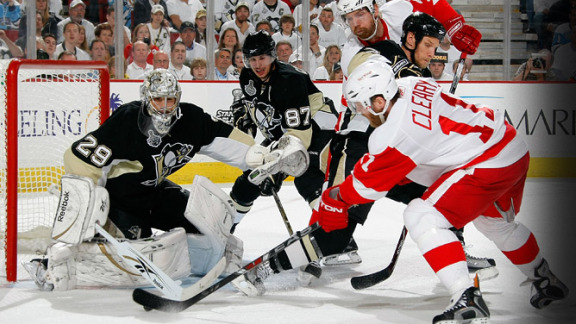 Dave Sandford/Getty Images
Pittsburgh Penguins (42-24-6) vs Detroit Red Wings(35-23-13)
7:00 PM ET, March 22, 2010 -- Joe Louis Arena, Detroit, Michigan
The Penguins and Red Wings each played Saturday; both games ended on goals coming with less than a second remaining in OT. Pittsburgh lost at home to Carolina on a goal at 4:59 of OT and later that night Detroit stole a win in Vancouver with a goal by Henrik Zetterberg with less than 1 second remaining in OT. Both teams know each other more than well enough; they've battled for Lord Stanley's Cup each of the last two seasons.
Game Preview: Penguins vs Red Wings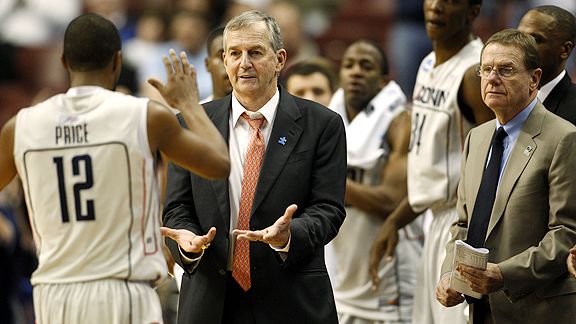 Chris Morrison/US Presswire
Connecticut Huskies (18-15, 7-11 Big East) vs Virginia Tech Hokies (24-8, 10-6 ACC)
7:00 PM ET, March 22, 2010 -- Cassell Coliseum, Blacksburg, VA -- ESPN, ESPN360.com
Connecticut is 6-1 all-time vs Virginia Tech and 3-1 all-time vs Tech in Blacksburg. Connecticut has lost its last three games away from home (last two regular season road games and Big East Tournament loss to St. John's). Virginia Tech is 9-0 at home against non-conference opponents this season.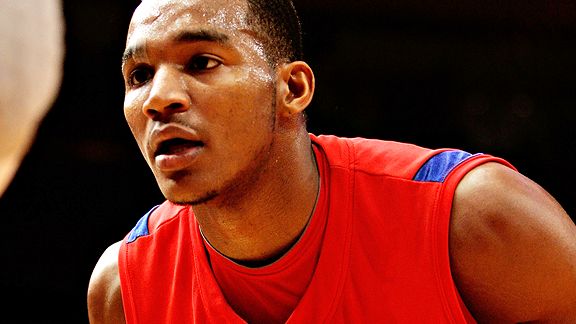 Mike Lawrie/Getty Images
Dayton Flyers (21-12, 8-8 A 10) vs Cincinnati Bearcats (19-15, 7-11 Big East)
9:00 PM ET, March 22, 2010 -- Fifth Third Arena, Cincinnati, OH -- ESPN, ESPN360.com
Cincinnati is 7-1 all-time against Dayton at the Fifth Third Arena. Dayton's 12 losses this season have been by a combined 49 points, including 5 by one possession (3 points or less). After scoring 16.6 PPG in February (7 games), Chris Wright is scoring only 10.8 points in 5 March games (3 single-digit scoring games in March after having only 4 games under 10 points during his first 28 games of the season). In Mick Cronin's 4 seasons as head coach (since 2006-07), Cincinnati is 46-24 (.657) at home.
.....................................................................................................................................................
Note: The Elias Sports Bureau and ESPN Stats and Information group contributed to this report.