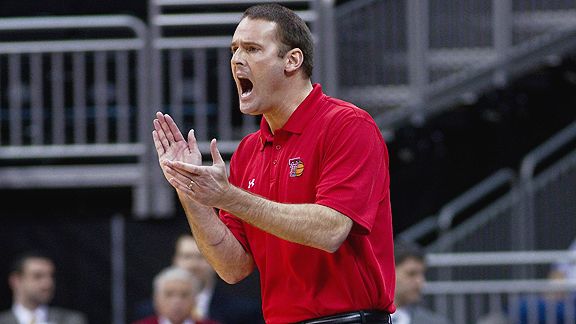 Jeff Moffett/Icon SMI
Texas Tech Red Raiders (19-15, 4-12 Big 12) vs Mississippi Rebels (23-10, 9-7 SEC)
7:00 PM ET, March 23, 2010 -- C.M. 'Tad' Smith Coliseum, Oxford, MS -- ESPN, ESPN360.com
Texas Tech has won all four meetings in this series, including the lone previous meeting in Oxford in December of 1975 (which was also last meeting in this series). Texas Tech is 3-1 in its last four games, all in postseason, after finishing regular season with seven straight losses. Ole Miss is 6-1 in its last seven games. Pat Knight's Red Raiders have allowed 70.0 points per game in non-conference games (1121/16), compared to 80.6 points per game allowed against Big 12 Conference foes (1451/18). Texas Tech's John Roberson has averaged 17.3 points per game in his last four games (69/4) after scoring just 10.5 points per game in his previous six contests (63/6). Ole Miss' Terrico White has averaged 24.0 points per game in two NIT games (48/2) after averaging just 12.0 points a contest in his previous four games (48/4).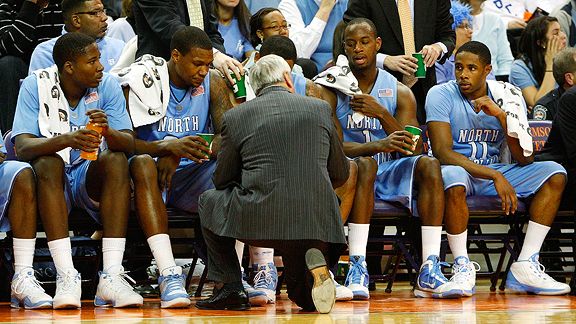 Kevin C. Cox/Getty Images
North Carolina Tarheels (18-16, 5-11 ACC) vs UAB Blazers (21-8, 11-5 C-USA)
9:00 PM ET, March 23, 2010 -- Bartow Arena, Birmingham, AL -- ESPN, ESPN360.com
North Carolina and UAB have met only once before, a 77-59 UNC win in a second round NCAA Tournament game in 1986. UAB is 1-1 against ACC teams this season and 5-9 against current ACC members all-time. North Carolina has averaged 78.0 PPG (156/2) in their two NIT wins compared to just 54.0 PPG (108/2) in their two games prior to the start of the NIT (losses to Duke and Georgia Tech). North Carolina's bench has outscored the opposition's bench, 53-12, in two NIT games so far. UAB is the lowest scoring team remaining in the NIT, averaging just 67.3 points a game (2221/33). This will be UAB's third straight opponent from the Carolinas in the NIT. Their wins in the first two rounds were over Coastal Carolina (Conway, SC) and North Carolina State (Raleigh, NC). UAB was one of four former or current Sun Belt Conference teams in this year's NIT, along with Jacksonville, South Florida and Troy (the only one of the four currently in the Sun Belt). The Blazers are the last of that group of four still alive in the NIT. The Heels may be without sophomore Tyler Zeller, who suffered a mild concussion against Mississippi State Saturday.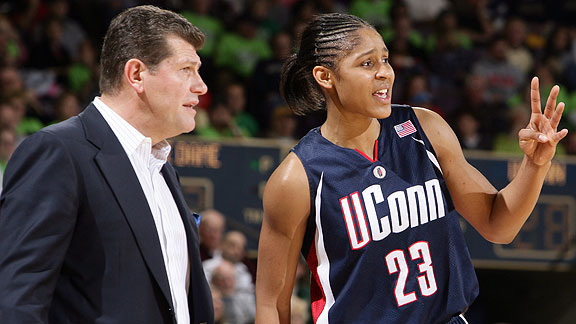 Matt Cashore/US Presswire
Temple Owls (25-8, 11-3 A 10) vs Connecticut Huskies (34-0, 16-0 Big East)
7:06 PM ET, March 23, 2010 -- Ted Constant Convocation Center, Norfolk, VA -- ESPN2
Connecticut looks to extend its winning streak to 74 games when it faces Temple tonight in the second round of the Women's Basketball Championship. If the Huskies win it will be against one of their former coaches. Temple's Tonya Cardoza was as assistant under Huskies coach Gino Auriemma, and is now in her second season as the Owls head coach. UConn is currently 15 wins behind UCLA for the longest winning streak in Division I history (Men's & Women's). The Huskies have won an NCAA women's record 73 games in a row, all by double figures, and are widely seen as the favorite to cut the nets down in San Antonio.
Game Preview: Owls vs Huskies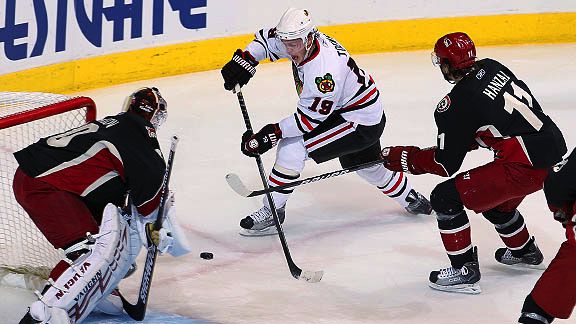 Christian Petersen/Getty Images
Phoenix Coyotes (46-22-5) vs Chicago Blackhawks (45-19-7)
8:30 PM ET, March 23, 2010 -- United Center, Chicago, Illinois
The two teams with the most points in the Western Conference, the Coyotes and Blackhawks, meet in Phoenix tonight. In the 13 seasons that the Coyotes have been in Phoenix they've made the playoffs five times and Chicago has qualified three times. They've been in the playoffs in the same year only twice, in 1997 and 2002. The Coyotes have won 9 straight, among the longest win streaks in the NHL this season.
Game Preview: Coyotes vs Blackhawks
..............................................................................................................................................
Note: The Elias Sports Bureau and ESPN Stats and Information group contributed to this report.