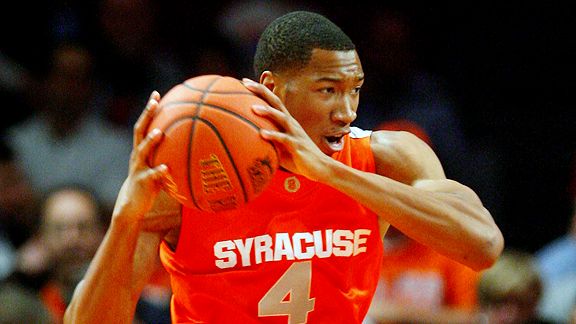 Jim O'Connor/US Presswire
Wesley Johnson, playing in his first NCAA Tournament, has scored 49 points in two games for Syracuse. Gary Clark (60 in 1957) is the only other player in Syracuse history to score that many in his first two Tournament games.
Butler Bulldogs (30-4, 18-0 Horizon) vs Syracuse Orange (30-4, 15-3 Big East)
7:07 PM ET, March 25, 2010 -- EnergySolutions Arena, Salt Lake City, UT
Butler has advanced to the Sweet 16 for the first time since 2007 (has never made Elite 8). The Bulldogs have won 22 straight games overall, the longest active win streak in Division I. It's just the 6th time a team from the Horizon League reached the Sweet 16. Syracuse is in its 2nd straight Sweet 16 for the first time since 2003 and 2004. It hasn't reached the Elite 8 since winning the championship in 2003. Butler is trying to become the first 5 seed to reach the Elite 8 since Michigan State beat 1 seed Duke in 2005. Butler has struggled versus zone defense in the 2010 NCAA Tournament. The Bulldogs have scored only six points on 13 plays versus zone defenses in their two games. They will need to improve this when they face Syracuse's vaunted 2-3 zone that has held opponents to 96 points on a 140 plays in two tournament games.
Game Preview: Bulldogs vs Orange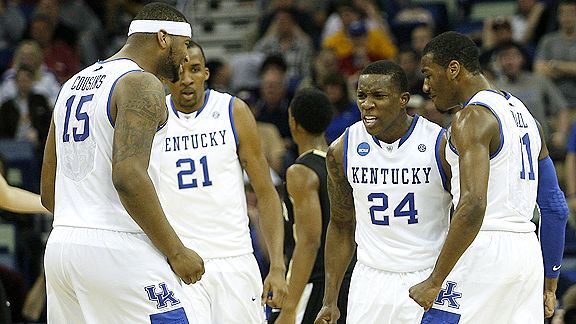 Crystal LoGiudice/US Presswire
Cornell Big Red (29-4, 13-1 Ivy) vs Kentucky Wildcats (34-2,14-2 SEC)
9:57 PM ET, March 25, 2010 -- Carrier Dome, Syracuse, NY
Cornell could become just the 2nd 12 seed to make the Elite 8 and first since Missouri beat 8 seed UCLA in 2002. Cornell is 2-0 in the 2010 NCAA tournament after going 0-5 in all previous appearances. It is just the third Sweet 16 for the Ivy League since the field expanded to 32 teams in 1975 (Penn in 1978 and '79). Kentucky has scored 190 points in its first two games, the most in back-to-back tournament games since 1996 when they won the national title. The Wildcats two tournament opponents have managed only 72 points on 104 field goal attempts against their man-to-man defense. In comparison, the Big Red has scored 126 points on 93 field goal attempts versus man defense, which at 1.35 is the 2nd-highest points per field goal attempt against man-to-man in the 2010 NCAA Tournament.
Game Preview: Big Red vs Wildcats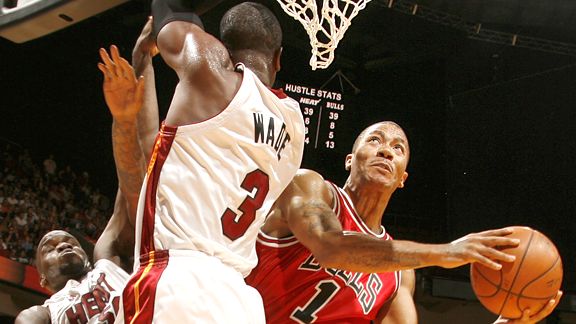 Issac Baldizon/Getty Images
Miami Heat (37-34) vs Chicago Bulls (33-37)
8:00 PM ET, March 25, 2010 -- United Center, Chicago, IL
Miami Heat all-star Dwyane Wade is from Chicago, but has struggled when he returns to the windy city. For his career, Wade is only averaging 17.7 PPG at the United Center, the lowest for any current arena in his career that he's played more than two games in. He scores 21.7 PPG overall vs Chicago, the second lowest vs any team in his career. Much has been made of how the Bucks got hot since acquiring John Salmons, but how about the Bulls since trading John Salmons. Chicago is just 6-11 since making the trade. The talk has already begun; who will have a better NBA career, Derrick Rose or Kentucky's John Wall?
Game Preview: Heat vs Bulls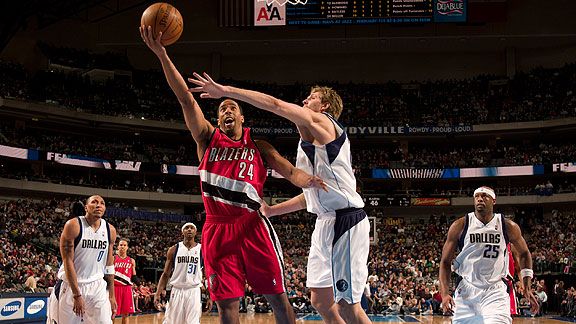 Glenn James/NBAE/Getty Images
Dallas Mavericks (47-24) vs Portland Trailblazers (42-29)
10:30 PM ET, March 25, 2010 -- Rose Garden, Portland, OR
From January 17, 2004 thru April 7, 2007, Dallas defeated Portland 13 consecutive times. Since then however, the Mavericks are just 5-4 against the Blazers, including losing both meetings this season. The last time these two teams met (Jan. 30) Andre Miller erupted for 52 points, the second highest total in the NBA this season. This game features two of the better isolation players in all of the NBA in Dirk Nowitzki, who said he didn't mind being called out by Dallas coach Rick Carlisle and Brandon Roy. Both rank among the league leaders in points per play in isolation situations. Nowitzki plays in isolation 20 percent of the time, while Roy does at 38 percent of the time (highest in NBA).
Game Preview: Mavericks vs Trailblazers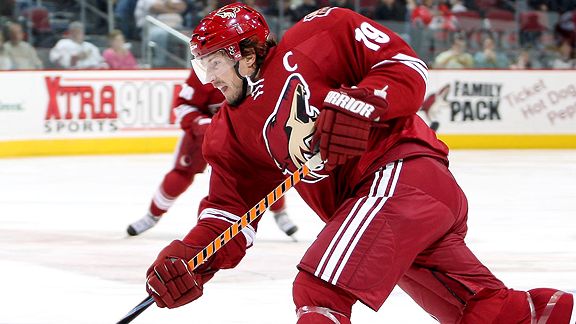 Christian Petersen/Getty Images
Phoenix Coyotes (46-23-5) vs Nashville Predators (42-27-5)
8:00 PM ET, March 25, 2010 -- Sommet Center, Nashville, Tennessee
Shane Doan looks to break out of his scoring drought as his Phoenix Coyotes invade Nashville. Doan, who has a team-high 52 points (17 goals, 35 assists) has been held scoreless the last 18 games. Nashville is logjammed with five other teams contending for the West's final four playoff spots. The Predators, who are trying to return to the playoffs after missing out in 2008-09, have eight games remaining to secure their berth.
Game Preview: Coyotes vs Predators
Note: The Elias Sports Bureau and ESPN Stats and Information group contributed to this report.