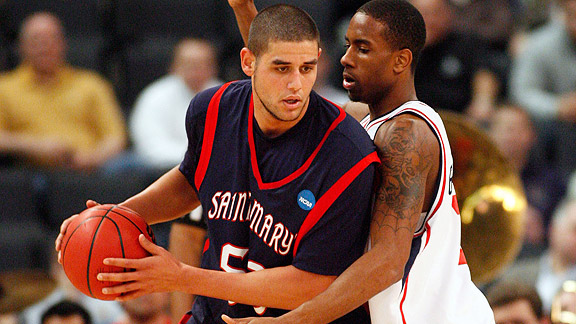 Stew Milne/US Presswire
St. Mary's Gaels (28-5, 11-3 WCC) vs Baylor Bears (27-7, 11-5 Big 12)
7:27 PM ET, March 26, 2010 -- Reliant Stadium, Houston, TX
Two teams making their Sweet 16 debut. Baylor has won two games in the Men's Basketball Championship for the first time since 1948, when Baylor reached the National Championship game. Entering 2010, Baylor had three wins in the Men's Basketball Championship; they can match that total with a win over the Gaels. Saint Mary's has won its last 7 games overall. Saint Mary's is 2-0 in the NCAA Men's Championship, prior to this season, the Gaels hadn't won an NCAA Tournament game since 1959. Omar Samhan's been the most dominant presence down low of any player in the Tournament. No one's come even close to him in scoring in the paint and that's why he's the Tournament's leading scorer with 61 total points.
Game Preview: Gaels vs Bears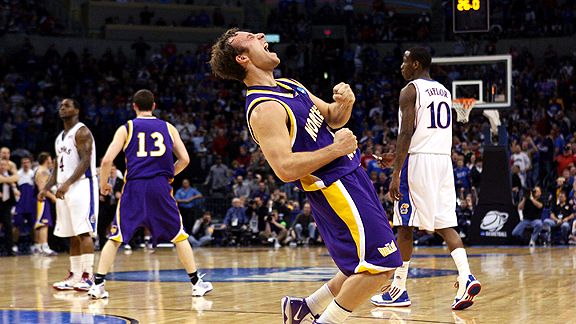 Nelson Chenault/US Presswire
Northern Iowa Panthers (30-4 ,15-3 MVC) vs Michigan State Spartans (26-8, 14-4 Big Ten)
9:37 PM ET, March 26, 2010 -- Edward Jones Dome, St. Louis, MO
Northern Iowa has played 8 games in their NCAA Tournament history and all have been decided by 5 or fewer points. The Panthers are the eighth Missouri Valley Conference team to reach the Sweet 16 since the field expanded in 1985, but the previous seven all lost in the regional semis. You have to go back to 1981 to find the last MVC school to win a regional semifinal game (Wichita State beat LSU). The Panthers are the first Missouri Valley Tournament champion to reach the Sweet 16 since Indiana State in 1979; a team that went on to play in the National Championship Game. The Spartans are in the Sweet 16 for the third straight year and ninth time under Tom Izzo. This might be the game for the Spartans to attack down low considering the loss of Lucas and Northern Iowa's struggles to defend the paint. Senior Raymar Morgan has had the most success in the paint, shooting 7-12 while the rest of Sparty is just 16-39.
Game Preview: Panthers vs Spartans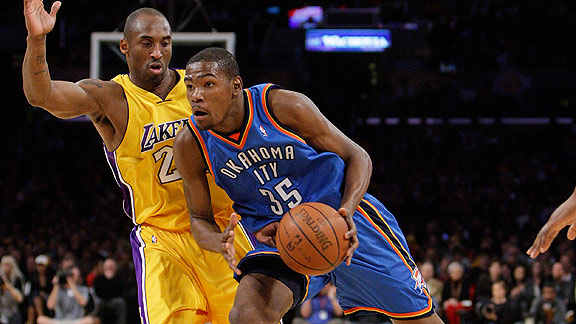 AP Photo/Jae C. Hong
Los Angeles Lakers (53-18) vs Oklahoma City Thunder (42-27)
8:00 PM ET, March 26, 2010 -- Ford Center, Oklahoma City, OK
Kobe Bryant has outscored Kevin Durant in all three meetings this season. Kobe and the Lakers are looking to run their overall winning streak to eight and their run against New Orleans to 13 tonight at the Ford Center. Bryant, who won the 2005-06 and 2006-07 scoring titles, has averaged 32.3 points in leading the Lakers (53-18) to three wins over Oklahoma City, outscoring Durant in each game. The Thunder are sixth in the West, and look to avoid falling to No. 8 given their recent history against the Lakers.
Game Preview: Lakers vs Thunder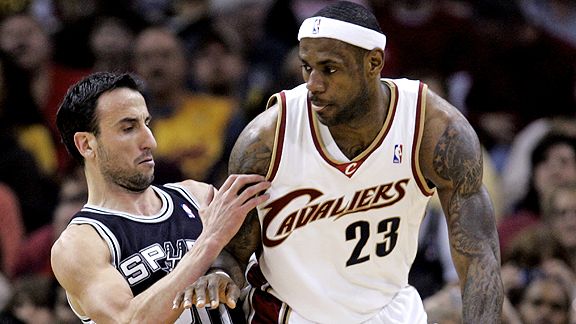 AP Photo/Tony Dejak
Cleveland Cavaliers (57-15) vs San Antonio Spurs (42-28)
8:30 PM ET, March 26, 2010 -- AT&T Center, San Antonio, TX
The Cavaliers have won 14 of their last 15 games, including each of the last 13 in which LeBron James played. That ties the longest personal winning streak of his career. James also played in 13 straight wins late last season (Mar. 7–31, 2009) and slightly over a month ago (Jan. 16 – Feb. 11). James was rested for the Cavaliers' only loss this month (92–85 at Milwaukee, March 6). Manu Ginobili and the Spurs are looking to bounce back from Wednesday's home loss to the Lakers.
Game Preview: Cavaliers vs Spurs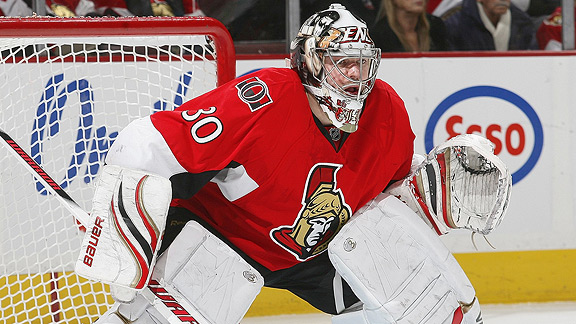 Andre Ringuette/NHLI/Getty Images
Ottawa Senators (39-30-5) vs Buffalo Bruins (40-22-10)
7:30 PM ET, March 26, 2010 -- HSBC Arena, Buffalo, New York
The Senators need a ninth-straight win over Buffalo tonight if they hope to keep their fading playoff hopes alive. Ottawa's hot goaltender Brian Elliott will only help their cause. Elliott shut out the Flyers 2-0 Tuesday, and is the first NHL goaltender to record shutouts on consecutive days since Boston's Tim Thomas did that on Oct. 27–28, 2008. Elliott is the third goaltender in Senators franchise history with shutouts on two straight days, joining Ron Tugnutt (April 2–3, 1997) and Patrick Lalime (Feb. 12–13, 2003).
Game Preview: Senators vs Sabres
Note: The Elias Sports Bureau and ESPN Stats and Information group contributed to this report.