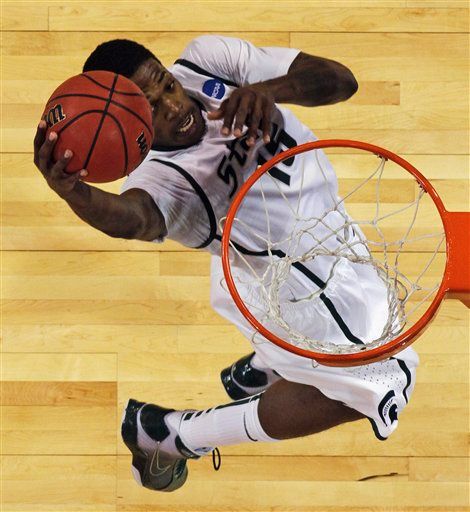 Michigan State's Durrell Summers scores 2 of his game high 21 points against Tennessee.
AP Photo/Paul Sancya
Spartans Back To The Final Four
Raymar Morgan's free throw with less than 2 seconds left gave the Spartans a 70-69 victory over Tennessee in the Midwest Regional final. That sends Michigan State to its sixth Final Four in 12 years and second straight. The Spartans, who were last year's national runner-up, will be looking for title #3. They play Butler who will be the hometown favorite, in the semifinals Saturday night.
Fran McCaffery has decided to leave Siena to become the new basketball coach for the Iowa Hawkeyes. Athletic director Gary Barta announced the hiring today and said McCaffery would be introduced in a press conference on Monday in Iowa City. McCaffery went 112-51 in five seasons at Siena, leading the Saints to three consecutive NCAA tournament appearances. They lost to Purdue in the first round this year and finished with a 27-7 record. McCaffery replaces Todd Lickliter, who was fired after Iowa went 10-22 this year.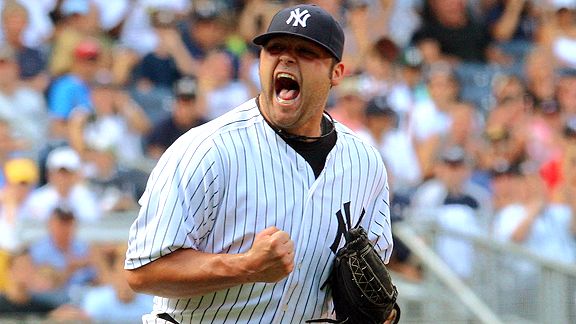 Jim McIsaac/Getty Images
Yankees Pitching Coach Says Joba Is A Reliever
It looks like Joba Chamberlain has a home … for now. According to Yankees pitching coach Dave Eiland, Chamberlain will remain in the bullpen for the duration of this season. He had been shuffled in and out of the pen for the past three years leading some to question whether the constant moving was affecting his production. "We will not bring him out of the bullpen to start this year," Eiland said. "There's people above me that can override my decision, but as far as I'm concerned that's (the bullpen) where he's going to be." Yankees GM Brian Cashman added that this decision applies just to this season. They plan to discuss Chamberlain's future prospects at a later date; meaning there is still a chance he could find his way into the rotation for 2011 and beyond.
The Associated Press contributed to this report.