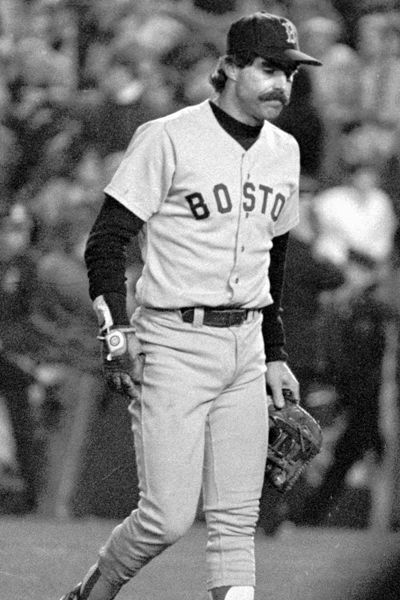 Rusty Kennedy/AP Photo
"Just a simple error ... no big deal ... there's still one more game ... we'll get them."
As sports fans, there are few greater feelings than seeing your team snatch a victory from what, moments earlier, seemed like an assured defeat. And when those victories are aided by a miscue from an opponent's error, it only adds to the warm fuzzy, right? For most, the errors are forgotten and everybody moves on ... unless the stage is so big that the miscue becomes an integral part of the moment. Then you've got Bill Buckner (no explanation needed).
The beneficiaries of Buckner's monumental "oops," the New York Mets, have taken the next step and honored him by displaying the ball that rolled through his legs, in their New York Mets Hall of Fame. Red Sox fans who still wake up in cold-sweats thinking about this night will despise this movement. However, we as neutral sports fans in the matter, think the idea is unbelievably, pompously, awesome.
While the Buckner error was one for the record books, we'd like to see other pro teams take a page from the "Mets Bragging Rights Hand Book" and honor their own fortunes caused by others failures.
Because the ball has been blown up, we'd like to see the Florida Marlins physically remove the "Steve Bartman seat" from Wrigley and ship it to Miami. The 2003 World Series Champions would then display it outside of Dolphin Stadium for fans to take pictures and reenact the Bartman foul-up. In addition, Moises Alou could show up on occasion to yell at the fans. Fun times for all.
And why haven't the Yankees signed former 12-year-old fan (and future minor leaguer), Jeffery Maier, to a lucrative contract? He did single-handily help advance the Yankees to the 1996 World Series. OK, so maybe he can't play right field in the majors ... why not let him do some sideline reporting for the local broadcasts? They owe him that much.
Colorado hasn't been the dominating football program that it was back in the 1990s and maybe that's because the school hasn't sufficiently honored the infamous "5th Down Game." We'd like to suggest retiring the number five from all sports programs. Ideally, they'd also offer $5 cafeteria sandwiches, and create a catchy jingle, but that idea has already been taken. On the flip side, the University of Missouri should find J.C. Louderback (head referee of the game) and enroll him in a semester of their Math program.
Here's one for the fans to decide: how should the New York Giants honor the great Scott Norwood? Should they create a replica of Norwood's right foot and dip it in bronze, placing a creepy, miniature statue in front of the new stadium? What about a "Wide Right Day" and only let Republican voters into the stadium? Take it from your New York brethren, Giants fans, and let us know how you think New York can honor this moment?