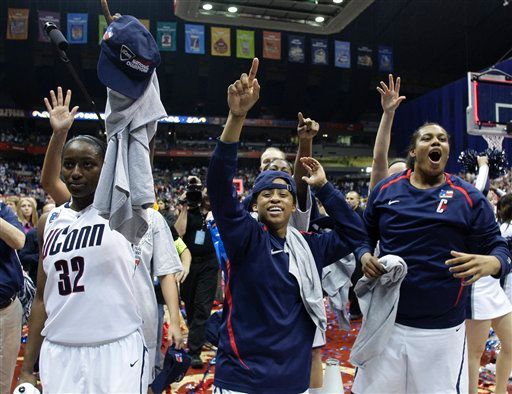 AP Photo/Sue Ogrocki
The UConn women became the first team in history to post back-to-back undefeated seasons. Despite being held to just 12 points in the first half, the Huskies found a way to bounce back in the 2nd half to win their second consecutive national title, 53-47.
Tiger Woods had his tee time and playing partners for the Masters announced Tuesday. He will take the tee at 1:42pm on Thursday with K.J. Choi and Matt Kuchar.
Boston College's search for a new basketball coach is over. Steve Donahue agreed to leave his post at Cornell and move on to coach the Golden Eagles next season. Donahue was 146-138 at Cornell and led them to the Sweet 16 this season.
After the jump, MLB Diversity Shines, Grandpa Favre Takes on New Meaning, NCAA Tournament A Ratings Hit, Oliver Purnell Leaves Clemson for DePaul and more.
Diversity in Major League Baseball
Monday's Opening Day to the Major League Baseball season was not only exciting, but also diverse. Of the 833 players on April 5th rosters, 231 were born outside of the United States. Nearly 1/3 of the players are foreign-born, spanning 14 countries and territories. The Dominican Republic leads the majors with 86 players born outside the U.S. Venezuela has 58 players. The New York Mets have the most foreign-born players, with 18.
Grandpa Favre Is No Longer Derogatory
Brett Favre just officially became a grandfather at the age of 40. His daughter, Brittany, gave birth to Parker Brett on April 2nd making Favre an NFL grandpa. The future hall of famer has not indicated whether he will return for a 20th NFL season yet.
2010 Final Four Tournament Ratings
CBS earned a 16.0 overnight rating for the game, up from an 11.9 from last year. That's an increase of 34% and means that approximately 48 million people across the country watched at least part of Duke's 4th national title
Judge Says Charles Rogers Owes Lions
A Detroit judge ruled Tuesday that former NFL wide receiver Charles Rogers owes the Lions $6 million. Rogers was suspended by the NFL after testing positive for a banned substance three times in 2005. The Lions released him the following year.
Purnell Leaves Clemson for DePaul
Oliver Purnell has agreed to become the next head coach at DePaul. Purnell leaves Clemson where he was 138-90 in seven seasons. DePaul was 8-23 last season and finished last in the Big East with a 1-17 conference record.
Free agent DE Alex Brown visited the Super Bowl champions Tuesday. The Saints want to bolster their defensive line following the departure of DE Charles Grant. Brown has spent his entire eight-year career with the Chicago Bears starting 91 games and collected 43.5 sacks.