April 7, 2010 11:00 PM ET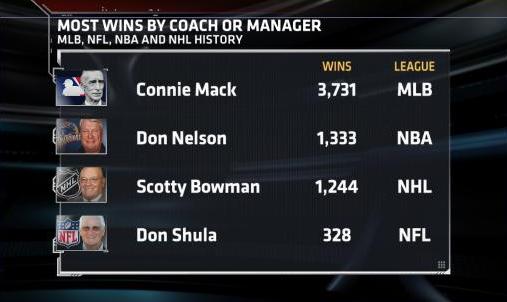 Golden State head coach Don Nelson set the NBA career record for victories, surpassing Lenny Wilkens. The Warriors win over the Timberwolves Wednesday night gives Nelson 1,333 career wins. As the Warriors closed the game out Ronny Turiaf poured a cup of Gatorade onto Nelson's gray head of hair as the team engulfed their 69-year-old coach to celebrate.
Don Nelson breaks a tie with Lenny Wilkens and joins Connie Mack, Scotty Bowman and Don Shula as the winningest coaches or managers in their sports' histories. However, Nelson has yet to win a title as a head coach, each of those other 3 has won at least 2 and have combined for 16.
Tags: Golden State Warriors, Don Shula, Don Nelson, Connie Mack, Scotty Bowman, Lenny Wilkens