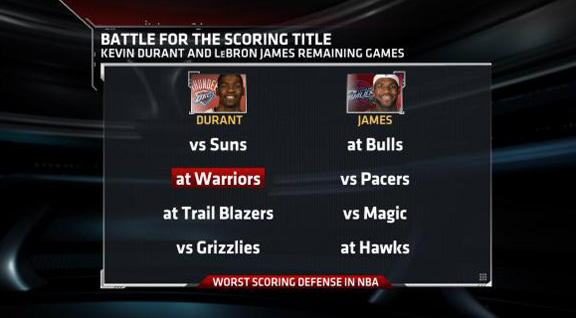 NBA SCORING TITLE RACE: Kevin Durant's 33 points on Wednesday gives him an average of 29.9 this season, putting him 2-tenths ahead of LeBron James with both players having 4 games left to play this season. Durant might have the advantage coming up, his next 2 games are against 2 of the 3 worst scoring defenses in the NBA, the Suns and Warriors. Don't forget, LeBron stated that he could win the scoring title at any time. But according to James, whether or not he finishes the season on top doesn't matter. One thing is for sure, both players would trade a scoring title for an NBA title.
MORE: A scoring title race that nobody wants to win
After the jump, the NBA has a new Head Master, the Bobcats sail into unfamiliar territory and inside Vernon Wells hot start.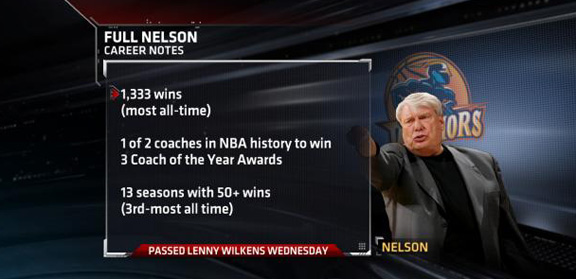 HEAD OF THE CLASS: So Don Nelson becomes the NBA's winningest coach in his 31st season... That's one fewer season than Lenny Wilkens coached. Nelson has won 50 or more games in 13 seasons, 3rd most all-time. He's done it with three different teams (Warriors, Mavericks, Bucks).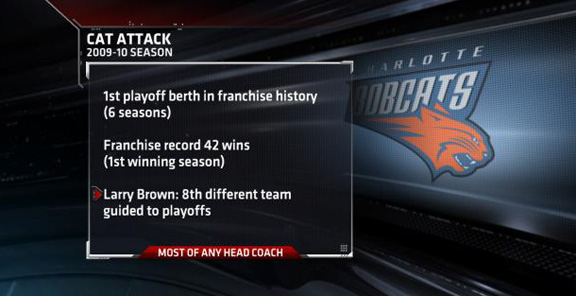 WELCOME TO THE BIG DANCE: The Bobcats clinch their first playoff berth in franchise history Wednesday. Their 42 wins is seven more than they had previously in a season. Charlotte is the 8th different team Larry Brown has guided to the playoffs - three more than any other coach.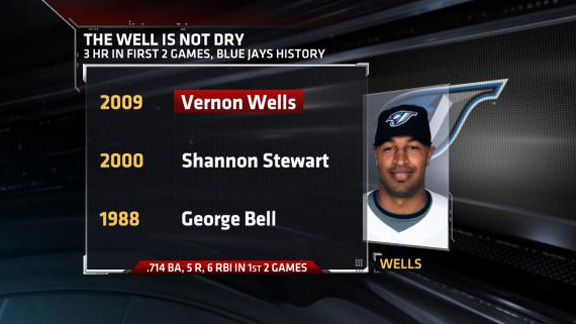 WELLS ON FIRE: After struggling with a .260 batting average and 15 HR last season, Vernon Wells is off to a hot start this season. He's batting over .700 with 3 homers and 6 RBI. He's just the 3rd Blue Jay to register 3 homers in the first 2 games, joining Shannon Stewart and George Bell.
NOTE: The Elias Sports Bureau and ESPN Stats And Information Group contributed to this report.