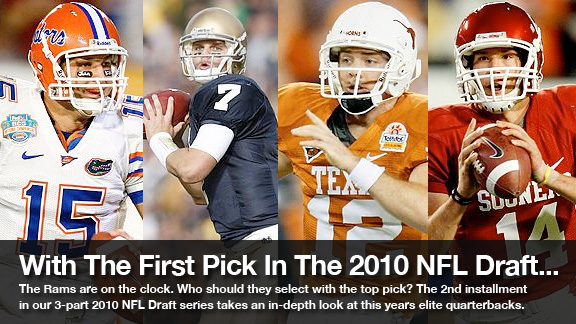 NUMBER ONE?: The St. Louis Rams hold the number pick in the 2010 NFL Draft. Should they select Heisman finalist Ndamukong Suh or pick one of this year's elite quarterbacks? With the release of Mark Bulger on April 5, it makes sense that the Rams will select a QB with the number one pick. But if you've studied the history of the draft, nothing makes sense. At this time, both Todd McShay and Mel Kiper are predicting Sam Bradford will be the No. 1 overall pick, and both believe that Jimmy Clausen will be selected in the 1st round. Lets take a deeper-dive at Jimmy Clausen, Tim Tebow, Colt McCoy and Sam Bradford: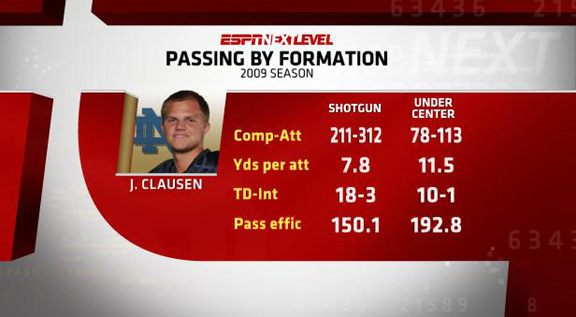 THROWING FROM UNDER CENTER: Jimmy Clausen threw the ball well from under center in 2009, finishing the season strong, completing 30 of 38 passes with 6 TD and 1 Int from under center in Notre Dame's final three games. Other notable top quarterback prospects in this year's draft spent considerably less time throwing from under center, which some experts say could make their transition into the NFL more difficult. Jimmy Clausen was very effective throwing deep balls after taking a snap under center – much more so than when he was in the shotgun.
- Sam Bradford was 0-1 after taking a snap from under center in his limited 2009 playing time.
- Colt McCoy was 5-12 for 27 yards and an INT after taking a snap from under center in 2009.
- Tim Tebow threw just 1 pass after taking a snap from under center in 2009. A 16 yard completion to Deonte Thompson against Vanderbilt.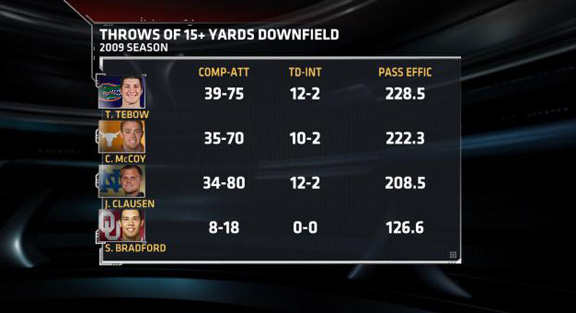 MOVING THE CHAINS: The consensus top two quarterbacks in the 2010 draft, Bradford and Clausen, did not throw down-field as well as Tim Tebow and Colt McCoy. The team that selects Colt McCoy may want to consider drafting Jordan Shipley later in the draft. McCoy completed 20 of 25 passes thrown 15+ yards in the direction of Jordan Shipley in 2009.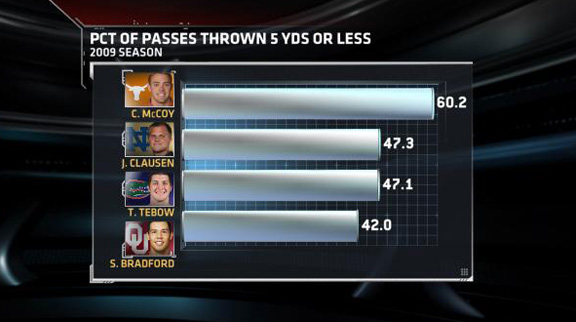 DOWN-FIELD PASSING GAME: Colt McCoy led all FBS quarterbacks with a completion percentage of 70.6 in 2009, but he was helped by the Texas offense which called for McCoy to throw a lot of short passes. Of the four big name quarterbacks in the draft, McCoy threw the highest percentage of short passes at 60.2 percent.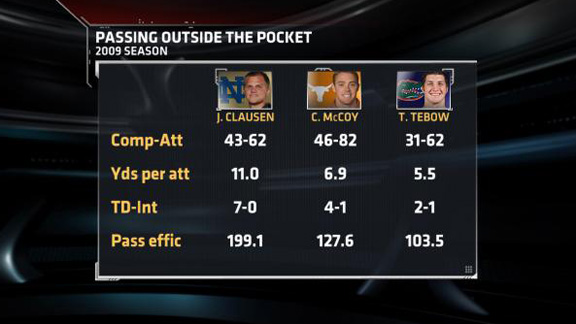 OUTSIDE THE POCKET: Despite battling through a toe injury, Jimmy Clausen put up great numbers when throwing outside the pocket, completing 43 of 62 passing attempts, throwing 7 touchdowns and zero interceptions.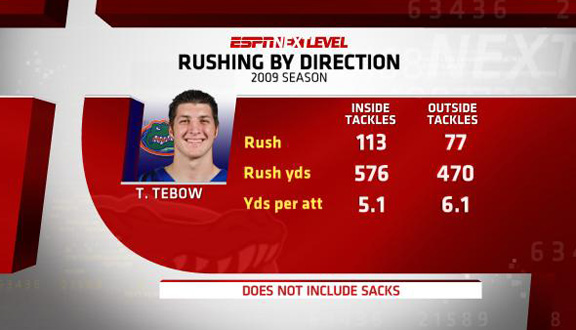 POUND FOR POUND: Tim Tebow was a bruising runner in college, and he has shown he can run inside and outside the tackles. Tebow converted on 35 of 44 rush attempts with 2 or less yards to go for a first down/touchdown in 2009. He racked up 1,046 yards on the ground in 2009 (910 if you include sacks) and 2,947 for his 4 year career in Gainseville.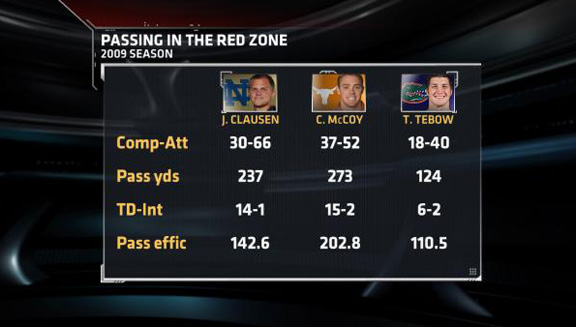 MONEY BALLS: Colt McCoy performed very well inside the 20 yard-line in 2009. He was the 9th-most efficient red zone passer in the FBS (minimum 30 att). Looking back at Sam Bradford, he was fantastic in the red zone in 2008, but struggled in his limited 2009 time. Bradford's 18.8 completion percentage ranked last in the FBS among passers with at least 15 red zone attempts.
NOTE: ESPN Stats And Information Group