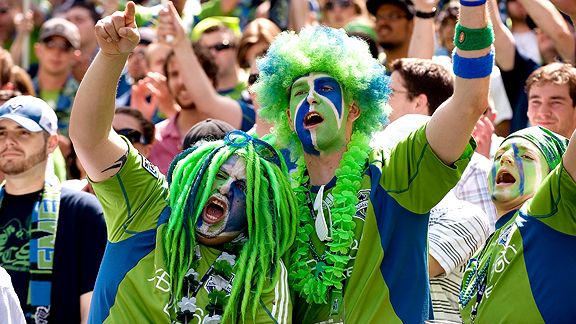 Rod Mar/MLS/Getty Images
Real fans don't just wear wigs - they take the time to make dreadlocks.
Here's something that you probably didn't realize: Major League Soccer has now moved past the NBA and the NHL in average attendance. The math is a little fuzzy, but mostly fair. According to the not-exactly-impartial MLS, the NHL has averaged 17,005 fans per game this season and the NBA has averaged a slightly better 17,111. Meanwhile, the MLS is averaging 18,453 fans per game so far this year.
So what gives? Is this a sign of the apocalypse? Well, maybe not. First of all, the MLS numbers only cover the first four weeks of the 2010 season, which has included the premiere of the Philadelphia Union in front of 35,000 fans at the Linc. And, secondly, the MLS attendance numbers still fall well below the recent marks of Major League Baseball (30,214) and the NFL (67,509).
Still, though, the numbers don't lie and apparently the MLS is doing something right. And, with the World Cup less than two months away, soccer popularity can only be expected to grow in the coming weeks and MLS attendance numbers to follow suit. But, then again, there could be other reasons why the MLS is currently outdrawing the NHL and the NBA.
For example, while the NBA has Brazilian Nene Hilario of the Denver Nuggets, the MLS has Brazilian Fred of the Philly Union. Seriously, ask yourself, who is more intriguing? And while we're on the name thing, it doesn't get much more intriguing than Chivas USA. Where does that team call home? Oh, that's right - anywhere they want in the USA. Something to think about, Los Angeles Clippers and Lakers. You gotta sell the sizzle! These MLS guys might really be on to something here. Are you paying attention Real Utah Jazz?
(h/t The Big Lead)