April 23, 2010 2:00 PM ET
Senators 4, Penguins 3 (3 OT) (Penguins lead series, 3-2)
It took 4 hours and 30 minutes to declare a winner in the triple-overtime thriller. The Senators'
Matt Carkner's
score in the 3rd OT, his first career playoff goal, keeps
Ottawa
alive in the series. Carkner has only scored 2 goals in 83 career regular-season games. The Sens'
Peter Regin
scored the game-tying goal in the 3rd period, his 3rd goal of the series. Regin had 13 goals in the regular season.
Pittsburgh
all-star
Sidney Crosby
had a goal and an assist, giving him 13 points in the series, tying his career high for a single playoff series, set last year against the Capitals. Game 6 is Saturday in Ottawa.
Game Recap
|
Box Score
|
Play-by-Play
After the jump, find out more about the record-setting night in the net by Ottawa's Pascal Leclaire.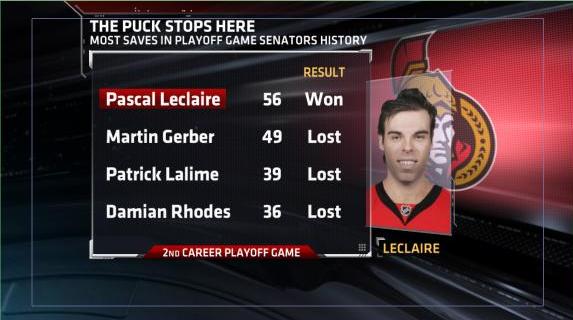 Pascal Leclaire, in just his 2nd career playoff game, stopped 56 shots to beat the Penguins, setting a Senators single-game playoff record. Leclaire's regular-season career high is 48 saves.
Note: The Elias Sports Bureau and ESPN Stats and Information group contributed to this report.
Tags: Video, SC Highlight Of The Night, Pittsburgh Penguins, SportsCenter, Sidney Crosby, Ottawa Senators, Peter Regin, SC Highlight Of The Night, Matt Carkner, Pascal Leclaire