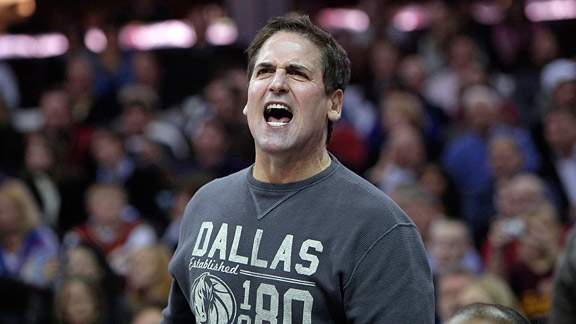 AP Photo/Tony Dejak
Look at Mark Cuban ... He is not happy. His Mavs are down 2-1 in their series with the Spurs ... He also told SportsBusiness Daily that he was irritated by the NFL scheduling their draft at the same time as NBA playoff games. "It irritates me on some level," Cuban said. "It shows the arrogance of the NFL. Everybody in sports has to partner at some level."
Let's not get Mark Cuban any madder. Hopefully, tomorrow his Mavs will tie up their series with San Antonio. But watch out ... if not, he might just go out and ... and maybe buy a league or something ... What's that? He did? I see ...
Our colleagues at ESPNDallas.com tell us that in fact Mr. Cuban has joined the ownership group of the fledgling United Football League. Cuban is investing in the league rather than owning an individual team. Cuban said one reason for the move was because of the timing of a possible NFL lockout in 2011. That could possibly focus more attention on the UFL. "It will make things really interesting, potentially," Cuban said. "It's a product that has a lot of potential, especially if the NFL has a lockout down the line ... People are still going to want to watch football."
In case you didn't know, The Florida Tuskers, lead by coach Jim Haslett and quarterback Brooks Bollinger, were the stars of the premiere season of the UFL. They rolled up a 6-0 record in the regular season, but in the championship game they were beaten by the Las Vegas Locos 20-17.
Mark Cuban ... UFL co-owner ... Locos ... league champions ... we're not making this stuff up.