April 26, 2010 4:00 PM ET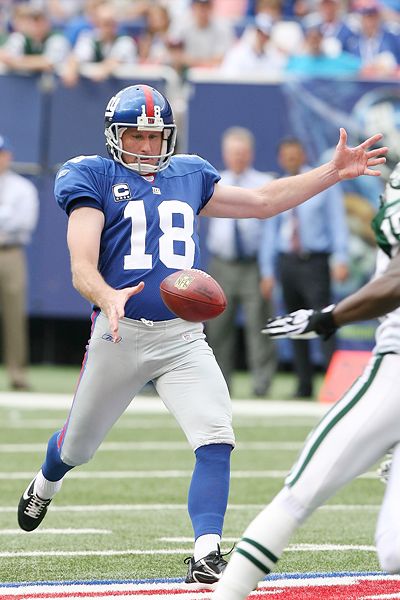 Al Pereira/Getty Images
Just another day at the office for 44-year-old Jeff Feagles.
Ronald Reagan, George W. Bush, Bill Clinton, George H.W. Bush and Barack Obama — Giants punter Jeff Feagles has played his NFL career throughout all of their presidential administrations, but it looks as if it will end with the 44th Commander-In-Chief. According to the
New York Daily News
, after five teams and 22 years of pro football, the 44-year-old punter is expected to retire next week.
In preparation for Feagles' retirement, the Giants spent their seventh round draft pick on punter Matt Dodge, who was just 14 months old when Feagles made his NFL debut on Sept. 4, 1988. "Jeff was trying to do the right thing by letting us know with the draft in front of us," said Giants coach Tom Coughlin. "He did the honorable thing, having the best interest of our team at heart. Whether we were going to do anything about it or not, that was up to us ... . Obviously we felt it was important enough to act."
Feagles, pro football's Iron Man, has played in an NFL record 352 consecutive games and also holds the record for most punts (1,713) as well as most punting yards (71,211). A 1987 NCAA National Championship with the Miami Hurricanes and a Super Bowl XLII win with the New York Giants accompany his individual accomplishments . But for all his football accolades, his off the field achievements are just as impressive.
On top of being a two-time Pro Bowler, Feagles is an expert swindler. Not once, but twice,
Feagles sold jersey numbers to teammates for a king's ransom
. The first victim was Eli Manning, who acquired his No. 10 jersey from Feagles in exchange for a one-week paid vacation in Florida. A year later, Feagles gave up his newly acquired No. 17 to Plaxico Burress in exchange for a new outdoor kitchen in his Arizona home.
However, Feagles' most remarkable feat comes from the virtual gridiron. His -11 lifetime rushing yards and 0-8 career passing numbers aren't the best of indicators, but he is still the
last man standing from Nintendo's 1991 cult-classic Tecmo Super Bowl
. With John Carney and Junior Seau unsigned as of now, Feagles remains the only active player on a Tecmo Super Bowl roster. Back then, gamers were only given the choice of
eight offensive plays
and Bo Jackson was able to toy with defenders en route to a
300-yard TD run
.
Tags: Haha, Eli Manning, New York Giants, Bill Clinton, Miami Hurricanes, Barack Obama, Junior Seau, Bo Jackson, Plaxico Burress, Jeff Feagles, Ronald Reagan, Matt Dodge, John Carney, Tecmo Super Bowl