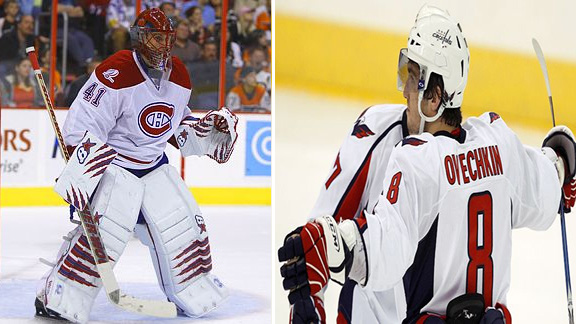 AP Photo/Gene J. Puskar/AP Photo/Matt Slocum
Montreal Canadiens vs Washington Capitals -- Game 7
7:00 PM ET, April 28, 2010 -- Verizon Center, Washington, DC -- Versus
If the Canadiens upset the Capitals, it will tie for the fifth-greatest upset in Stanley Cup Playoff history in terms of regular-season point differential (33). The Capitals are 2-6 all-time in Game 7s, the Canadiens are 11-8. The top-seeded Capitals must find a way to solve Canadiens goaltender Jaroslav Halak. Halak stopped 53 shots in Game 6, and is 3-1 this series when he has faced at least 35 shots. A hot goaltender isn't likely to shake the confidence of Capitals all-star Alex Ovechkin, according to Caps coach Bruce Boudreau. "I bet you, if you ask Alex, he still thinks he's going to score a goal," Boudreau said. "He thinks he's going to score every game." The Capitals may need even more scoring tonight as they will be without defenseman Tom Poti, who was hit in the eye by a puck in Game 6 and may be sidelined for two or three weeks -- or longer -- if the team stays in the playoffs with a win tonight.
If WASHINGTON WINS:
If MONTREAL WINS:
Game Preview: Canadiens vs Capitals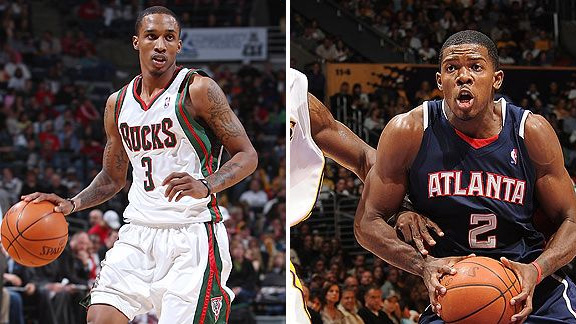 Getty Images and Noah Graham/NBAE/Getty Images
Milwaukee Bucks vs Atlanta Hawks (series tied 2-2)
8:00 PM ET, April 28, 2010 -- Philips Arena, Atlanta, GA -- TNT
Milwaukee takes its two-game win streak to Atlanta, where they lost the first two games of the series. The Bucks have lost each of their last six road playoff games by at least 10 points. That ties the second-longest streak of that type in NBA history. Bucks rookie Brandon Jennings wants his team to establish an identity tonight saying, "We're not a good playoff team until we win a game on the road." Game 4 was the first in the series not to be decided by at least double digits. Joe Johnson had 29 points and 9 assists in Game 4. He's averaging 25.8 PPG for the series. Dating back to the regular season, Atlanta has won 14 straight games at home.
Game Preview: Bucks vs Hawks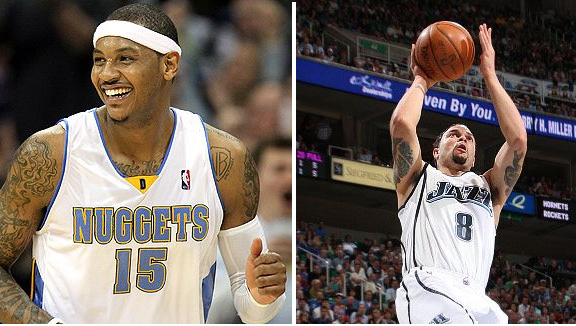 Garrett W. Ellwood/NBAE via Getty Images and Melissa Majchrzak/NBAE/Getty Images
Utah Jazz vs Denver Nuggets, -- (Jazz lead series 3-1)
10:30 PM ET, April 28, 2010 -- Pepsi Center, Denver, CO -- TNT
The Nuggets are facing elimination tonight at home against Utah. That's not good news for Denver. The Nuggets have lost 8 consecutive playoff games when facing elimination. That's the longest such streak in NBA history. Deron Williams scored 24 points and dished out 13 assists as Utah took a three-games-to-one lead over the Nuggets. Denver hasn't found an answer for Williams, who is the first player since Magic Johnson 20 years ago to register at least 20 points and 10 assists in each of the first four games of a playoff series. Carmelo Anthony has scored at least 30 points in three different games against the Jazz in this series. No Denver player has ever had four 30-point games in an NBA playoff series.
Game Preview: Jazz vs Nuggets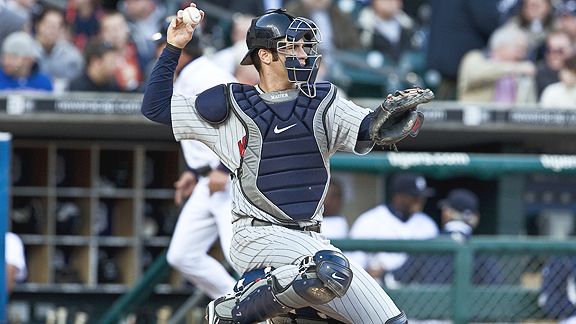 Andy Altenburger/Icon SMI
Minnesota Twins vs Detroit Tigers
7:00 PM ET, April 28, 2010 -- Comerica Park, Detroit, Michigan -- ESPN, ESPN3
Starting Pitchers
Minnesota: Baker (2-2, 4.81 ERA)
Detroit: Scherzer (1-1, 2.63 ERA)
Reigning AL MVP Joe Mauer didn't reach base in the series opener, recording his first 0-for-5 game since Aug. 1 against the Los Angeles Angels. Mauer, though, is still batting .381 in the first four games of Minnesota's nine-game trip. The Twins are 3.5 games up on the second-place Tigers heading into tonight's game. Scott Baker won his first two career starts against the Tigers in 2005 (allowed 2 ER in 13 IP), but since then is just 3-4 with a 4.77 ERA in 15 starts against them. Max Scherzer has a 2.63 ERA this season and has allowed 3 ER or fewer in each of his four starts, but the Tigers are just 1-3 in those games.
Game Preview: Twins vs Tigers
Note: The Elias Sports Bureau and ESPN Stats and Information group contributed to this report.