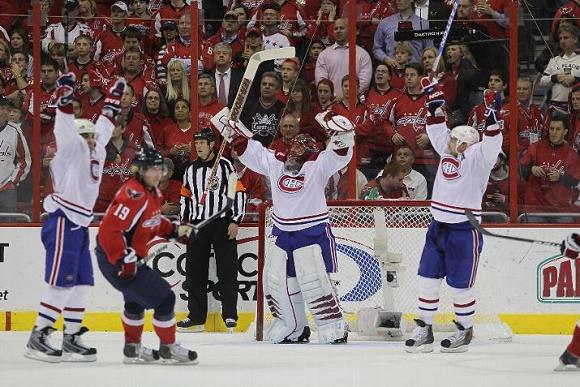 Bruce Bennett/Getty Images
Habs Complete Comeback, Knock Out Caps
Led by Jaroslav Halak's 41 saves, the Montreal Canadiens slowed Alex Ovechkin and the rest of the Washington Capitals' high-powered offense to complete an unlikely comeback and eliminate the NHL's best regular-season team in the first round.
An apology from the GM, but a promise from the team owner to still look into the matter. Miami Dolphins general manager Jeff Ireland apologized to former Oklahoma State wide receiver Dez Bryant for asking Bryant, in a pre-draft interview a few weeks ago, if his mother was a prostitute. Bryant, the 24th overall draft pick of the Dallas Cowboys said the question originally made him, "really mad." A league statement said Ireland "exercised poor judgement in asking an insensitive and inappropriate question." Miami team owner Stephen Ross said he'll look into the matter personally and "take appropriate actions if necessary."
Report: Surgery For Broncos Tackle Clady
Denver Broncos All-Pro left tackle Ryan Clady has undergone surgery to repair a torn and will be out for several months, according to The Denver Post. Clady suffered the knee injury playing basketball, two league sources told ESPN NFL Insider Adam Schefter. Clady has told people he will miss three months.
After the jump ... Chris Johnson not with the Titans, Dwight Howard fined, Phil Mickelson ill, the Derby draw, China loses Olympic bronze medal, Darren Sharper visits Jags, and new rules at the MLB All-Star Game.
Johnson Missing Titans Team Activities
The Tennessee Titans 2010 season opened Tuesday without its best player, Chris Johnson. His absence may come as no surprise as Johnson, the reigning NFL Offensive Player of the Year, told the Tennessean in January that he wanted a new contract, ideally making him the league's highest-paid offensive player. What remains unknown is how long Johnson will stay away, as the team has another practice later this week. The Titans organized-team activities continue in May and June. While Chris Johnson's absence will be missed, the Titans signed two undrafted free agent running backs Stafon Johnson from USC and former Oregon RB LeGarrette Blount.
Superman Angry And Paying For It
Dwight Howard was fined $15,000 in November for critical comments on his blog about officiating. And he's at it again, ahead of the second round of the playoffs. "Ya'll know that that series against Charlotte drove me crazy. I mean, it was almost comical at times how I was getting fouls called on me. There was nothing I could do out there and I felt like I couldn't move without getting that whistle blown on me," Howard said. "I'm not looking to say anything to get myself in trouble with the league, but I just don't see other star players getting called for fouls the way I get them. No star player in the league is outta games the way I am. I even talked to Patrick Ewing about his career and he said he never had foul trouble like what I'm going through. I gotta say this is the most frustrating stretch of my career. I've never been through four games in a row like that. But hey, we won the series and we're moving on." With those comments, Howard was fined $35,000 by the league.
After five holes Wednesday, Phil Mickelson withdrew from the pro-am event at the Quail Hollow Championship due to illness. Mickelson's publicist said Phil was suffering from dehydration and was being treated by a doctor. Skipping the pro-am can cause a player to be disqualified from the tournament, but because Mickelson's absence was due to illness, his status in the event will not be affected. The reigning Masters champion met with the media Wednesday morning and did not disclose any health concerns. His first-round tee time Thursday is at 12:50 pm ET.
Derby Downer For For Favorites
The Kentucky Derby draw was Wednesday with the race coming Saturday. Not good news for the two favorites ... Lookin At Lucky, the 3-1 favorite getting the post. There hasn't been a Derby winner from that spot since 1986 ... That was Ferdinand. The next best odds, Sidney's Candy, at 5-1 ... exact opposite ... gets the far outside #20 position. Also not good news ... only two winners have come from the #20 spot. But Big Brown was one of them only 2 years ago.
Chinese Used Illegal Gymnast in 2000, Lose Bronze Medal
The International Olympic Committee has stripped China of a bronze medal they won in the 2000 Syndey Games. The Chinese women's gymnastics team illegally used an underage girl, Dong Fangxiao, who was determined to be 14 years old at the time of the Olympics. IOC rules state that the gymnast must turn 16 during the year of the games to be eligible. The bronze medal was awarded to the US team who finished 4th that year. Dong was also stripped of her 6th place finish in the individual floor excercise and her 7th place finish in the vault.
Pro Bowl safety Darren Sharper is still a free agent and looking for a new team. ESPN NFL Insider Adam Schefter reports that Sharper was scheduled to visit the Jacksonville Jaguars Wednesday. If he doesn't sign with the Jags, the Cowboys are also rumored to be interested in the 5-time Pro Bowler who led the league in INTs last season. Dallas recently cut last year's starting Free Safety, Ken Hamlin, but did not pick a player at that position in the draft.
All-Star Changes: Rosters Expanded, Yearly DH
There will be two extra All-Stars this summer. Rosters have been expanded again by commissioner Bud Selig's special committee for on-field matters, with each team bringing 34 players to the July 13 game in Anaheim, Calif. In addition, a designated hitter will be used in the All-Star Game every year, including in NL cities. The DH has been used since 1989 when the All-Star Game was played in AL ballparks.
Gordon Underwent Ankle Surgery
Pistons guard Ben Gordon underwent successful surgery on his injured left ankle. Gordon had bone spurs and other loose bodies removed from the ankle at St. Joseph's Mercy Hospital in Pontiac, MI. He is expected to make a full recovery in time for the team's training camp in October. Gordon averaged 13.8 points 2.7 assists and 1.9 rebounds per game last season after signing with the Pistons last summer as a free agent.
Ribery To Miss Champions League Final
Bayern Munich winger Franck Ribery has been handed a three-game ban by UEFA after being sent off in the first leg of the Champions League semifinal against Lyon. He did not play in Tuesday's return leg and will miss the final in Madrid on May 22nd. Bayern Munich will appeal the ban.
The Associated Press contributed to this report.