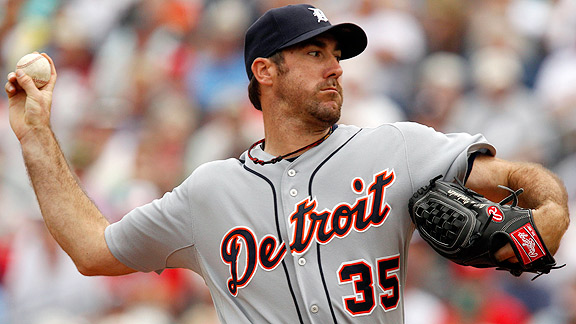 AP Photo/Gene J. Puskar
Justin Verlander is on a pitch count and we've got some good guesses of what it might be.
Detroit Tigers ace Justin Verlander has thrown two consecutive outings of more than 120 pitches though manager Jim Leyland says it won't become a regular occurrence. Leyland insists that he doesn't "take a chance with anybody" and that he'll hold Verlander to a strict pitch count going forward. The thing is, Leyland won't divulge the specific number of pitches he considers to be Verlander's maximum. Apparently, it's top secret.
After Verlander led the majors in pitches and innings last season on his way to a 19-9 record, Leyland is sure to keep a close eye on him again this time around. For his part, though, Verlander finds the whole concept of imposed pitch limits to be overrated, saying "Do I wish I could stay out there for 175 pitches? Yeah." And for all we know, maybe Verlander will get his wish sometime this season, because Leyland's elusive pitch count remains unknown.
Taking a closer look at the numbers, though, we think we can muster a few educated guesses as to how many pitches 'ole Jimmy Lee is going to allow. As a starting point, we know that Verlander threw a season-high 125 pitches against the Angels on April 22nd, so let's mark that as the lowest possible pitch count. Meanwhile, the most pitches ever thrown by one pitcher in a game is 228 (by Tom Cheney of the Washington Senators on Sept. 12, 1962, the same night he threw an MLB record 21 strikeouts), so we also have what can be considered a maximum.
Roughly speaking, then, Verlander's pitch count for falls somewhere between 125 and 228. Great. Now let's take a closer look at some of the more likely possibilities and see if we can crack this nut. Surely, the answer is in here somewhere.
130 - The is the highest number of pitches that Verlander has ever thrown in a single major league game (on Aug. 6, 2008 against the White Sox). Seems like a likely candidate.
150 - With a nod to the Ford F-150, the second most durable product of Detroit behind Verlander himself.
187 - As in "Deep Cover." As in Dr. Dre's debut solo single from 1992. As in the same Dr. Dre that introduced the world to Eminem. As in the same Eminem that introduced the world to Detroit - the home of the Tigers and Justin Verlander.
212 - or 21.2 to be exact. That's the number of career innings Verlander has pitched in the postseason, all coming back in 2006. With a proper pitch count set in place, Leyland hopes the Tigers can ride Verlander's arm back to the playoffs this year.
225 - Verlander's current weight may also determine his pitch count. If so, he'll only need to put on four more pounds to open the door for a new MLB record of 229 pitches. May we suggest a KFC Double Down, Mr. Verlander?
227 - This one's easy. There's a rumor that Jim Leyland has a crush on Jackee.
With Verlander's next start scheduled for Sunday against the Angels, we'll just have to wait and see if Leyland tips his hand at all or if J-Money's pitch count remains top secret.