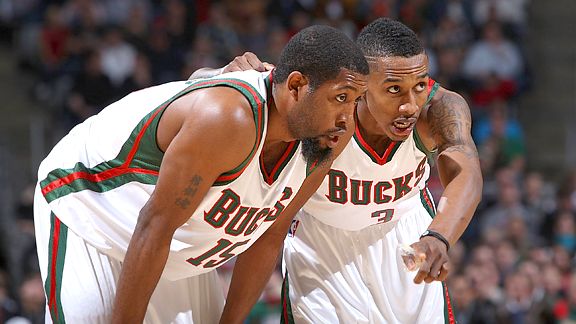 Gary Dineen/Getty Images
Atlanta Hawks vs Milwaukee Bucks -- Game 6 -- (Bucks lead 3-2)
7:00 PM ET, April 30, 2010 -- Bradley Center, Milwaukee, WI -- ESPN, ESPN3
The Atlanta Hawks have played in 17 road-playoff games since the 1998 season, winning just once. If they want to win tonight, they'll likely have to turn this game into a track meet. When the Bucks take more than 80 shots in this series, they are 0-2; when they shoot less than 80 times, they are 3-0. Brandon Jennings scored a team-high 25 last game, after leading the Bucks with 23 points in Monday night's victory. He's the first NBA rookie in 40 years to lead his team in scoring in each of back-to-back playoff wins.
Game Preview: Hawks vs Bucks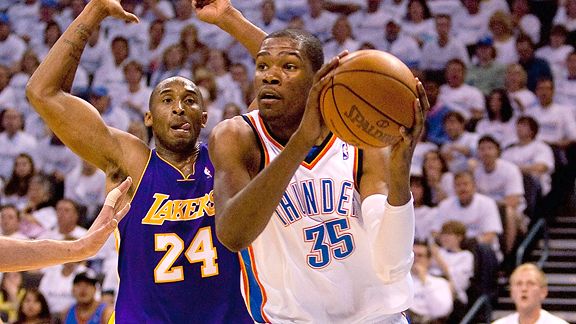 Dilip Vishwanat/Getty Images
Los Angeles Lakers vs Oklahoma City Thunder -- Game 6 -- (Lakers lead 3-2)
9:30 PM ET, April 30, 2010 -- Ford Center, Oklahoma City, OK -- ESPN, ESPN3
The two stars of this series, Kobe Bryant and Kevin Durant, didn't play in the fourth quarter of either Games 4 or 5. When Durant has played, he's been defended mostly by Ron Artest, covering Durant on over half of his plays and limiting him to shooting 35.1%. Look for the Thunder, like the Hawkt, to try pushing the tempo tonight. The Thunder are averaging 23.5 fast-break points per game at home and 10.7 in Los Angeles. If Kevin Durant's season ends tonight or Sunday, an odd trend will continue. In seven of the past eight seasons, the NBA team with the league's scoring champion was eliminated from the playoffs in the first round or did not qualify for the postseason in the first place.
Game Preview: Lakers vs Thunder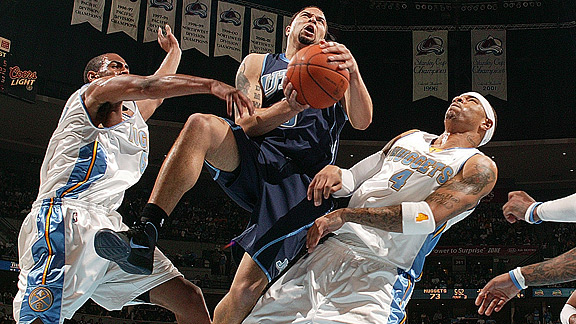 Garrett W. Ellwood/NBAE/Getty Images
Denver Nuggets vs Utah Jazz -- Game 6 -- (Jazz lead 3-2)
10:00 PM ET, April 30, 2010 -- EnergySolutions Arena, Salt Lake City, UT -- ESPN2, ESPN3
Deron Williams has five consecutive games with at least 20 points and 10 or more assists, tying an NBA postseason record. Williams is the first player to do that within a single-playoff series. Denver has never won a series in which it trailed 3-2 in a best-of-seven series. The Nuggets will be without Nene (sprained knee) for Game 6. Nene played all 82 games in the regular season for the first time in his career. He previously has missed games due to testicular cancer and a torn ACL in his right knee. Utah is known for being a tough and noisy place to play; the Nuggets should expect nothing less tonight.
Game Preview: Nuggets vs Jazz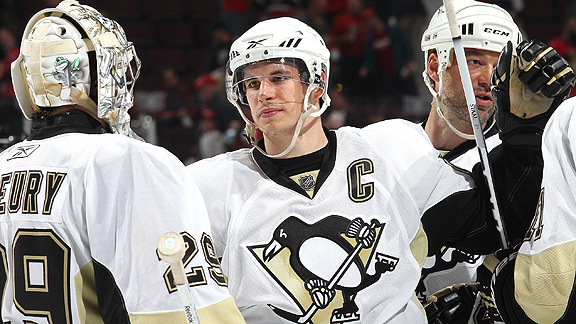 Andre Ringuette/NHLI/Getty Images
Montreal Canadiens vs Pittsburgh Penguins -- Game 1
7:00 PM ET, April 30, 2010 -- Mellon Arena, Pittsburgh, Pennsylvania -- Versus
After upsetting Alex Ovechkin and the Washington Capitals in round one, the Canadiens now look to top another all-star, Sidney Crosby and the Pittsburgh Penguins. This is just the second all-time postseason meeting between the teams and the first since the 1998 Conference Quarterfinals, won by the Penguins in six games. Montreal goalie Jaroslav Halak went from goat to hero in its Conference Quarterfinals upset win over Washington. He was pulled from Game 4 but then bounced back to stop 131 of 134 shots in the Canadiens Game 5, 6 and 7 wins. It's only been six games, but his save percentage is among the best in Canadiens postseason history.
Game Preview: Canadiens vs Penguins
Note: The Elias Sports Bureau and ESPN Stats and Information group contributed to this report.