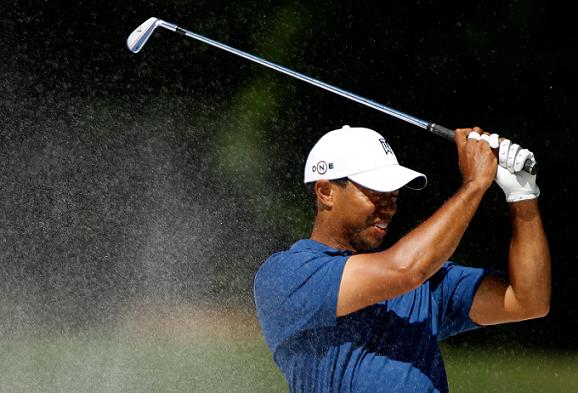 Scott Halleran/Getty Images
Woods Misses Cut At Quail Hollow
Tiger Woods won't be playing this weekend at the Quail Hollow Championship. After struggling to an opening round 74 Thursday, Woods was still not able to get it together Friday ... shooting a 79 ... +9 for the tournament. Tiger was even par on the front 9, but then made three straight bogeys from holes 10 through 12. He then made back-to-back double bogeys on 14 and 15. It's the 6th time in his professional career that he failed to make a cut.
Dolphins Owner: Dez "matter closed"
Stephen Ross, the owner of the Miami Dolphins says the team will "make improvements" to its player interviewing practices. This response after the fallout from general manager Jeff Ireland asking former Oklahoma State receiver Dez Bryant whether his mother was ever a prostitute. Ross released a statement saying Ireland "is well deserving of my continued confidence" and that he considers "the matter closed." He stopped short, however, of saying if he considered any punishment for Ireland. After Bryant's first workout with the Cowboys Friday, he repeatedly said he didn't want to talk about his interview with Ireland and the controversy that has followed.
Pens' Power Play Crushes Canadiens In Game 1
Defensemen Kris Letang and Alex Goligoski each had a goal and an assist and the Penguins shredded Montreal's penalty-killing unit that Washington never solved in the opening round. The Pens beat the Canadiens 6-3 Friday night in the first game of the Eastern Conference semifinals.
After the jump ... More gun troubles for Gilbert Arenas, LeBron has a good practice, and is the likely league MVP, Favre needs surgery to play next season, Titans not worried about Chris Johnson, and the 2011 MLB All-Star game in Arizona is questioned due to new state immigration policy.
More Gun Issues For Gilbert Arenas
A Beverly Hills company is suing Washington Wizards guard, Gilbert Arenas, claiming he owes them more than $70,000 for storing guns he purchased back in 2006, but never picked up. The firm, Tactical Operations, is selling the weapons, but claims Arenas owes storage fees and interest. Back in March, Arenas had to serve 30 days in a half way house for bringing guns into the team's locker room.
LeBron James showed no signs of being bothered by a right elbow injury while attempting shots during practice Friday. James has a strain and bone bruise on his right elbow, which has been hurting him for weeks. He wore a protective sleeve on his arm during Cleveland's preparation for Saturday's series opener against the Celtics. Cavs coach Mike Brown said James was not limited in practice, but that his team did not have any contact drills.
Speaking of LeBron ... James will be named the NBA's MVP for the second-straight year, a person familiar with the announcement told the Cleveland-Plain Dealer. The Cavaliers' all-star will receive the honor Sunday at the University of Akron. James averaged 29.7 points, 7.3 rebounds and 8.6 assists this season. He led the Cavs to 61 wins, earning the top seed in the East. Cleveland opens round two of the playoffs at home against the Boston Celtics Saturday.
If Brett Favre returns to the Vikings next season it will be with a surgically-repaired left ankle, according to ESPN's Ed Werder. Favre was advised by orthopedic surgeon Dr. James Andrews that surgery to repair the ankle he injured in the NFC Championship Game against the New Orleans Saints is unavoidable.
As Chris Johnson continues to miss offseason workouts and push for a new contract with Tennessee, the Titans don't seemed overly concerned. Coach Jeff Fisher tells The Tennessean, "We would all prefer that he is here. Again, he eventually will come back. He knows what it takes to get into shape." And receiver Nate Washington says, "At the end of the day, this is how we feed our families. Just as the next man is working at the insurance office or a firefighter working, everybody has to feed their family. And to be one of the best at what you do, you expect the best. Whenever he is ready to come back we'll accept him with open arms."
Santonio Holmes Cited In Flight Over iPod
The New York Jets say authorities at Pittsburgh International Airport filed an incident report after wide receiver Santonio Holmes failed to follow flight regulations by not turning off his iPod as the plane he was on was landing. Jets spokesman Bruce Speight said Friday that the team was told Holmes was flying from Newark Liberty International Airport to Pittsburgh on Thursday night. Speight says the report was filed with the Allegheny County Police Department after Holmes' flight landed. Holmes got off the plane and police officers reminded him of complying with flight regulations, but the wide receiver was not charged.
New York Rep. Jose Serrano is calling on MLB commissioner Bud Selig to move next year's all star game in response to the tough new immigration law in the state of Arizona. Serrano wants Selig to move the 2011 All-Star Game from Phoenix. Serrano said, "MLB has a very loud megaphone, and their rejection of Arizona's action would be an important demonstration to Arizona that we do not tolerate such displays of intolerance in our nation."
The Associated Press contributed to this report.