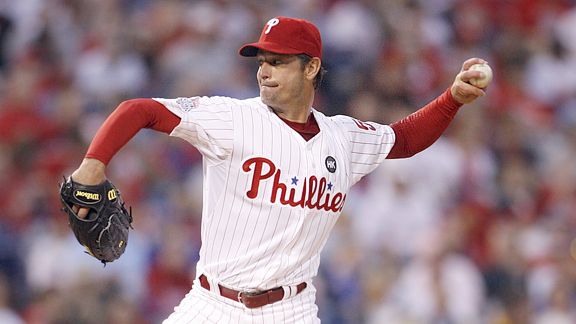 IF SOME'S GOOD, MOYER'S BETTER
With the bases loaded in the bottom of the fourth, Jamie Moyer drove in a run with a walk against some Mets pitcher called Johan Santana. Then he scored a run on Shane Victorino's grand slam. Then he singled in the fifth. Then he worked a 1-2-3 sixth. Then he picked up the win, one that moved the Phillies into first place. It's his third win of the year, which means he has just as many wins this year as CC Sabathia. Which means he has three more wins this year than Zack Greinke. And this year is 2010. In the year 1986, Jamie Moyer played for the Chicago Cubs. So did Gary Matthews. Gary Matthews, Jr. went 0-for-Moyer last night for the Mets.
Recap | Highlights | Meet the 1986 Chicago Cubs
More from The Rundown, including some unnatural natural selection, and the legally-recognized worst professional tennis player in the world, after the jump.
SEAFOOD
Joe Pavelski has scored two goals for the Sharks in each of the first two games to put the Red Wings in a 2-0 hole in their second-round series. (He's the first NHL player with three straight multi-goal playoff games since Mario Lemieux did that in 1992.) And after his first goal in Game 2, a Sharks fan tossed a shark onto the ice. Thanks to Twitter, we know that the shark had an octopus stuffed in its mouth. It's completely natural, since Red Wings fans have been tossing an octopus onto the ice since 1952 (since an octopus has eight tentacles, and back then it took 8 wins to win the Stanley Cup, which they won). Except that it's completely unnatural, at least according to nature. (Game 3 is Tuesday in Detroit.)
Recap | Twitter | Octopus Eats Shark
"There is nothing ... of which the claimant actually complains that cannot be justified. And the facts are sufficient to justify any defamatory meaning the words complained of are capable of bearing."
- Once upon a time, a British newspaper wrote that Robert Dee was the world's worst professional tennis player. Mr. Dee didn't like the way that sounded, so he took them to court. And so now, a judge has ruled, in fact, that Mr. Dee is the world's worst professional tennis player.