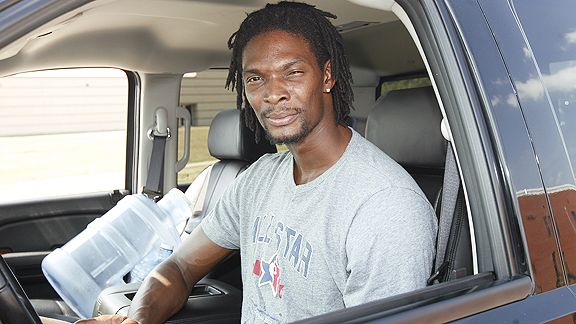 Layne Murdoch/NBAE/Getty Images
Chris Bosh is looking to you, (yes, YOU) to solve his free agency problem.
While LeBron James and Dwyane Wade may be the biggest targets of the 2010 free agent market, another member of the 2003 NBA Draft class is also expected to make a splash as Chris Bosh looks for a contender south of Canadian border. Now that his season's over, CB4 has decided to toss some ambiguity onto the fire via Twitter, posting over the weekend:
"Been wanting to ask. Where should I go next season and why?"
... and about a half hour later:
"Ok... Let me rephrase the question. Should I stay or should I go?" Is it us, or has Bosh started to code his tweets as songs like Pete Carroll? When did you start listening to The Clash, Chris?
In response, the Raptors have implored their fans on their homepage to send him a tweet to "tell Chris Bosh how much you want him to remain the franchise player for his first and only NBA team." And so the battle over Chris Bosh's heart, mind and employment plays out in 140 character bursts. A few early entries:
"'Come Back To Texas'- Bowling for Soup" - @pmgilmore, going with the Pete Carroll meme.
"you should go to Cleveland! Build a dynasty with LeBron. Get you out of Canadian exile haha. You'll be on SC all the time now!" - @mfitzgeraldz, who brings up a good point about SportsCenter highlight perks while throwing conventional NBA Economics out the window.
Meanwhile, we've come up with our own Twitter pitches for some of the leading contenders to help Chris make up his mind:
Houston
"Free Mandarin lessons. U can haz China's #1-selling jersey. #ShaneBattier weekly karaoke party."
Chicago
"Unlimited pass to Joakim Noah's barber. Will build you mansion out of sausage and world's biggest winter heat lamp."
Dallas
"Money fights w/@mcuban and #JerryJones."
New York
"Rename lane outside Garden 'Chris Avenue.' We'll get Jay-Z to drop 99 lyrics that rhyme w/Bosh. Three words: Wingman Derek Jeter."
Toronto
"Willing to make basketball official sport of Ontario. Also, tell you secret code to underground maple syrup lake."