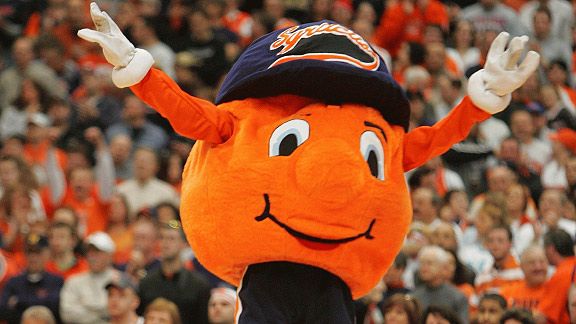 Marc Squire/Getty Images
We wonder if Otto would burn on tan in the South Florida sun.
One of college football's longest-standing relationships came to an end yesterday when FedEx said it would not be sponsoring the Orange Bowl. Thus the delivery company ended the longest-running naming rights deal for a BCS game (21 years) and left the South Florida bowl game without a sponsor to call its very own.
Fedex said it was saying hasta la vista because it didn't want a larger season-long sponsorship deal, which all BCS sponsors are being asked to do. So ESPN, which will start broadcasting all of the BCS games in 2011, is working with Orange Bowl officials to find a new sponsor.
Seeing as we sort of have a stake in all this, we figured we'd better help give the search committee a head start. So here are our suggestions, ESPN and friends. Take 'em or leave 'em.
When we think sponsor, we think money. And when we think money, we think banks. So why not ING Direct? Anyone who's ever been to ING's Web site, or seen one of their stores, or seen one of their commercials, or encountered one of their virtual stores on Second Life knows how much the checking/investing/mortgage company likes round orange things. So "owning" the Orange Bowl seems like a perfect fit. Plus, ING already has experience with sponsoring things. In 2007, ING hosted the Independence Ride, in which Robbie Knievel (son of Evel) motorcycle jumped over $4.8 billion dollars (OK, it was fake. The money, not the jump), the amount of interest money paid to the customers of ING Direct. Hey, halftime show, done and done!
Speaking of things that are round and orange, Otto the Syracuse Orange has to be a contender for sponsorship. Sure, South Florida is a long way from Otto's home in upstate New York, and at first glance it doesn't make sense to have Syracuse's mascot tied to a bowl that is so closely associated with a different university (Miami). But think of all the recruiting opportunities Syracuse could have in South Florida once Otto becomes a permanent fixture in the community. And surely Otto has cousins in the area. Plus, we have a feeling Otto's been getting a little bored with his usual day to day.
If the Orange Bowl's going to entertain Otto as a sponsor, then Bruce Pearl and Pat Summitt, the coaches of the Tennessee men's and women's basketball teams, respectively, are worth a look too. We'd wager that no one knows more about orange than Bruce and Pat. And if the folks at the Orange Bowl want to come up with some new apparel to sell in honor of their new sponsor, well, why do we think coach Pearl would be more than happy to weigh in on that?
Finally, it seems silly not to entertain at least one orange drink vendor as a potential sponsor. Tropicana – as in Tropicana orange juice – seems pretty tied up with the Trop, aka Tropicana Field, where the Tampa Bay Rays play. So we thought Orange Julius would be a great option, since serving the delectable orange concoctions at the bowl game would certainly increase ticket sales. But could the company, which started as a simple juice stand in Los Angeles, afford all those sponsorship dollars? Probably, since O.J. is now owned by Dairy Queen. But if not, we wonder if they'd consider a joint sponsorship with NBA legend Julius Erving. Erving not only has ties to Florida – he worked in the Magic's front office – he also has experience with sponsorship, as he and former NFL running back Joe Washington became the first minority-owned full-time NASCAR team in 25 years back in 1997 when they fielded a car in NASCAR's Busch Grand National series. Of course, this might mean renaming the Orange Bowl the Orange Julius Erving Bowl. But we think that's a point in the win column for everyone.