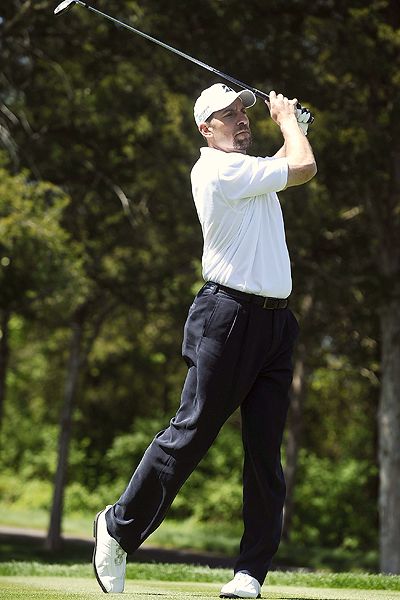 Jeff Zelevansky/Getty Images
John Smoltz cranks a 95-mph fastball down the fairway.
John Smoltz has 213 wins, 154 saves, 3,084 strikeouts, a lifetime ERA of 3.33, one NL CY Young and one World Series ring. And while that's likely enough to land him in Cooperstown in the near future, is it enough to secure him a spot in the 2010 U.S. Open? According to USGA.com, the longtime Braves hurler is among the 9,052 golfers who filed U.S. Open entries in hopes of qualifying for Pebble Beach Golf Links. Smoltz carries a plus-2.0 USGA Handicap Index and is a personal friend of Tiger Woods, who says Smoltz is the best golfer he knows who is not a professional. Maybe Smoltz can offer up some golfing advice to Tiger on bouncing back after getting shellacked and help him right the ship in time for this week's Players Championship?
Meanwhile, Smoltz isn't the only pro athlete looking to tee it up at the U.S. Open this summer. Tony Romo is also attempting to join the field of 156 golfers. Here's hoping fourth time's a charm because Romo has failed to qualify for the U.S. Open in his previous three attempts. If 2010 is the year that Romo finally makes the jump from amateur to pro, he and Sergio Garica would make the perfect pair at Pebble Beach. Both of them are 30 years old and neither of them have ever won anything major.
Jaguars kicker Josh Scobee and Vikings kicker Ryan Longwell are also looking to make the transition from the gridiron to the greens. Scobee's desire to play in the U.S. Open is understandable; with Jags coach Jack Del Rio's locker room ax wielding tactics, most kickers would be looking to skip minicamp. As for Longwell, maybe he's thinking about a career change and isn't sure about playing for the Vikes next season ... that seems to be pretty common around Viking Country these days.
Unfortunately, the deadline for entries has passed and former entrant, and tennis Hall of Famer, Ivan Lendl will not be continuing his attempt to unify golf and tennis' U.S Open crowns. We'll just have to wait and see if Smoltzie can add another chip to his collection.